Heo Youngji Shows Support For Afterschool Nana at 'Swindlers' Premiere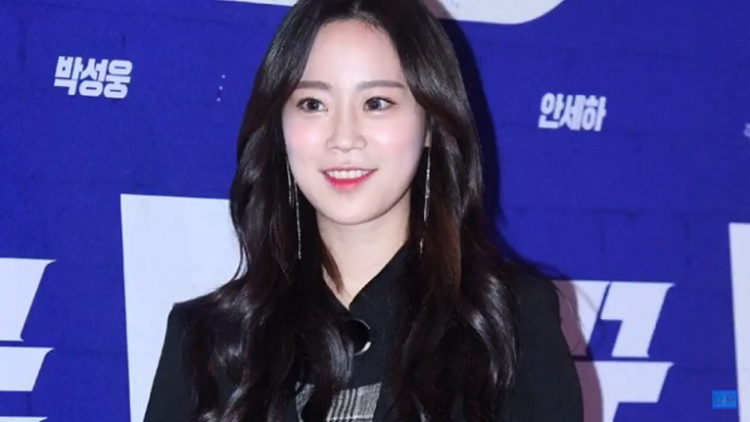 'Roommate' family is proving their everlasting bond! On November 20, Former KARA member Heo Youngji showed support for fellow 'Roommate' cast Afterschool's Nana by attending the VIP premiere of her newly released movie 'The Swindlers' at the Megabox COEX in Gangnam-gu, Seoul.
Heo Youngji, who just released her solo single back in August, came to the movie premiere as invited by Nana, who stayed in the same room as her and comedian Lee Guk Joo during 'Roommate'. She showed up looking ever so gorgeous with a knee-length checkered grey dress, topped with a black coat just as long as her inner dress. Youngji was also wearing black velvet boots that went up just a little higher above her ankle, showing beautiful contrast on her pale skin. A pair of thin, long silver earrings that peeked behind her black hair made an appearance too. She also carried a black, rectangle-sized sling bag with her, a perfect match to her almost-all-black concept that day.
After the premiere, Heo Youngji gave a shout-out to Nana as she posted several photos from the event on Instagram. She included a pic of the Afterschool member giving a speech while holding a flower bouquet, where she was standing on the stage along with other casts of 'The Swindlers'. Youngji did not forget to capture the ticket she was given for the movie and added a pretty selfie of herself in the studio.
Afterschool's Nana and Heo Youngji used to star together in a Korean reality show 'Roommate' back in 2014 when the latter just debuted for one month. The two grew closer since they stayed in the same room for the whole show, and Nana who took good care of Youngji as her senior in Korean music industry. 'Roommate' featured celebrities living together in a share house, where they share everything from common spaces like kitchen and living room, until the house chores.
Meanwhile, Nana's movie 'The Swindlers' is a drama crime film which revolves around a prosecutor named Park Hee Soo (played by Yoo Ji Tae), and a fraudster named Hwang Ji Sung (played by Hyun Bin), where the two later teamed up to go after a con artist who committed a grand fraud. During its VIP premiere, many female idols also came showing their support to Nana, such as other Afterschool members, Girl's Day's Hyeri, SNSD's Yoona, former Rainbow member Kim Jaekyung, as well as KARA's leader Park Gyuri. 'The Swindlers' itself is scheduled to hit the cinemas on November 22.
© 2018 Korea Portal, All rights reserved. Do not reproduce without permission.