Chinese Billionaire Joseph Lau Buys World's Most Expensive Diamond For Record-Breaking $48.4 Million And Renames It 'Blue Moon Of Josephine' After His 7-Year-Old Daughter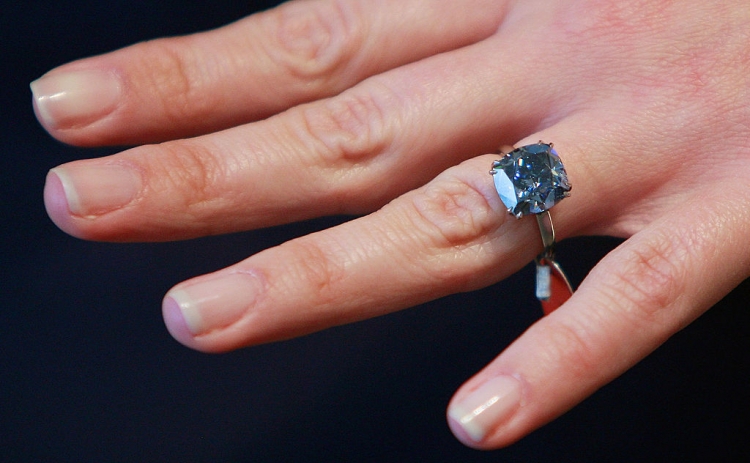 On Wednesday, an exceptionally beautiful blue 12.03-carat diamond was sold for $48.4 million at the Sotheby's auction in Geneva, making it the world's most expensive diamond in history.
CNN reported Friday the diamond was bought by a "Hong Kong buyer" and was later renamed "Blue Moon of Josephine" by the said Hong Kong bidder.
The "Blue Moon" diamond is now a holder of two records. It is currently the most expensive diamond without regard to color and is also the most expensive jewel ever sold at an auction, The Guardian noted Thursday. David Bennett, head of Sotheby's international jewelry division, said it is the "highest price per carat" attached to any gem.
The record for most expensive diamond was previous held by the 24.78-carat Graff Pink which was sold at a Sotheby's auction for $46.2 million in 2010.
At a Christie's auction the previous day, which is a rival auction of Sotheby's, an anonymous buyer won the bidding war for a 16.08-carat pink diamond, sold at a tune of $28.5 million. The diamond was later renamed "Sweet Josephine".
The subsequent purchases, both now bear the name "Josephine", got many curious as to the identity of the mysterious buyer. CNN confirmed that the buyer was Hong Kong-based Chinese billionaire Joseph Lau, business tycoon and owner of property firm Chinese Estates Holdings.
"Yes, the diamonds were bought by Mr. Joseph Lau for his daughter," Lau's spokesperson told CNN via phone patch.
Lau is known for naming gems after his daughters, 13-year-old Zoe and 7-year-old Josephine.
In 2009, Lau bought a 7.03-carat blue diamond for $32.6 million and renamed it "The Zoe Diamond". He also purchased a Burmese ruby diamond brooch which weighed 10.10 carats and sold for $8.43 million. The diamond was given the name "The Zoe Red".
According to the Financial Times, the "Blue Moon' was helmed from a 29.6 carat rough diamond found at Petra Diamonds' Cullinan mine in South Africa.
© 2023 Korea Portal, All rights reserved. Do not reproduce without permission.