BTS on Entertainment Tonight : Discussing About Dating and True Love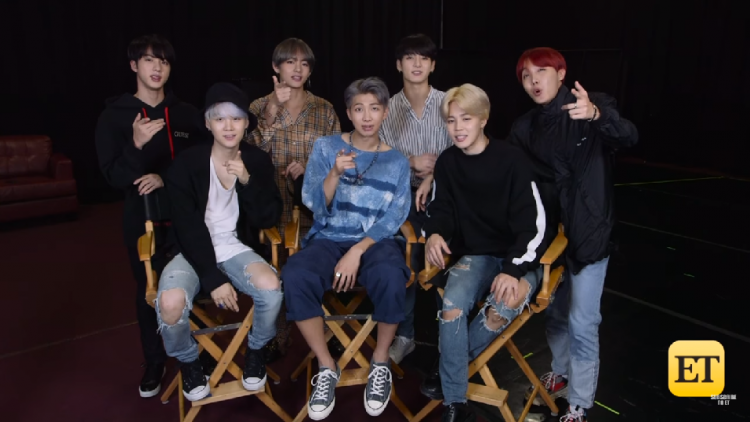 On November 16 when BTS were doing a rehearsal for 2017 AMAs, Denny Directo from Entertainment Tonight had an exclusive interview with them that was put in Daily Denny section, where the boys talked about many things, including dating and what true love means to them. During the earlier part, BTS was asked about their popularity and their excitement on performing live for the first time ever at the 2017 American Music Awards.
They also expressed how thrilled they were by screaming, before mentioning which artists' performance they could not wait to witness on that award show, such as Selena Gomez, Imagine Dragons, Diana Ross, and the 'queen' Lady Gaga they've always adored, as told by Soompi. When asked about which artist they badly want to work with, Jungkook shyly answered Justin Bieber, saying that he was like a singer everybody wants to do a collab with.
Another question about what true love means to them was thrown, as it was related to BTS' album "Love Yourself: Her", where they want their fans to love themselves more. Leader RM then answered that it was something that comes from your own self, explaining that if somebody wants to love others, they have to love themselves first.
When Suga was asked if they will actually have time to date since they always have a packed schedule every time, the rapper said that it is more important now to love their families and friends, and people around them as they already give lots of love to BTS.
In another series of interview, BTS discussed more their future plans on doing a world tour. RM explained how they have always wanted to do another one as they have finished their previous 'WINGS' tour, but this time they hope it will be held in more countries and that they get to perform in bigger stages, as well as showcasing better performances.
The boys also talked about the possibility of releasing an English Album after releasing their 'MIC Drop' remix with Steve Aoki that was delayed, and if J-Hope mixtape is going to out soon. BTS will be answering fans questions too on Friday. Watch the full video of the interviews below!
© 2018 Korea Portal, All rights reserved. Do not reproduce without permission.