Lovelyz Sets the Christmas Spirit with Latest Single 'Twinkle'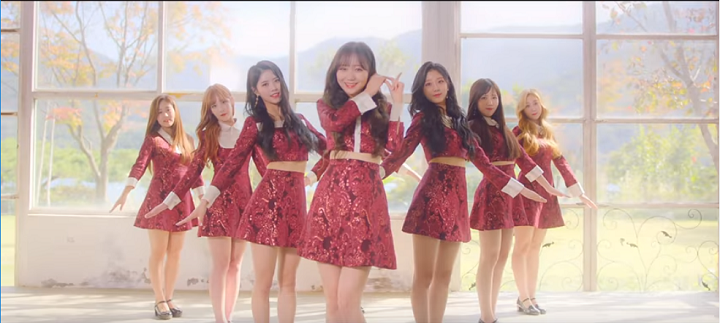 The K-pop girl group Lovelyz just released their latest single "Twinkle" from their album "Fall in Lovelyz." It's the group's third single released this year, a great follow up to "Now, We" and "WoW." This is Lovelyz's first release since their album "Now, We" came out in May.
Wearing wine red sweater dresses paired with chandelier earrings, Lovelyz were feeling the holiday vibes in their music video by knitting, playing with fake snow and snow globes, and even putting on some decorations themselves. They switched up from warm sceneries during the chorus to perform the song's cheerful choreography wearing lace-embellished dresses, just before switching into holiday-inspired party outfits.
The group's latest track veers more along J-pop act's digital beats combined with the group's seasonal vocals. The "Fall in Lovelyz" album features seven other great tracks that show the girl's ability to mix bubblegum pop styling with some creative electronica genre, wrote Billboard.
According to the group, the song will show its fans a different side of them. Producer 1Take and Tak Soojung also commented that there are some strong points in the songs that made it difficult to record. Production team OnePIece was handling most of the group's previous title tracks including their debut album. This is the first time that the group will be working with 1Take and Tak.
Lovelyz was formed in 2014 and is the only female pop act under Woollim Entertainment, the same company who handles Golden Child and INFINITE. The group consists of eight members and have already released nine tracks to date. According to AllKPop, the group recently celebrated their 3rd anniversary with their fans on Nov.12. The girls also expressed their happiness on a live stream, with each member sending a quick message to their fans and how they were feeling about their third anniversary.
© 2023 Korea Portal, All rights reserved. Do not reproduce without permission.