BTS Now the Fastest K-pop Group To Reach 150 Million Views With 'DNA' MV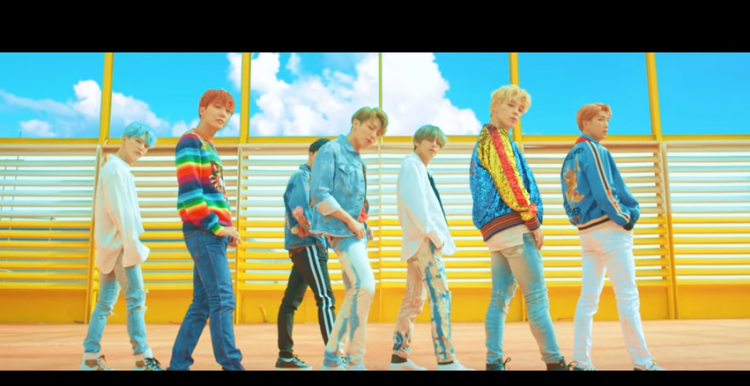 BTS's latest music video "DNA" has just reached the 150-million mark for the most number of views on YouTube, making it the fastest K-pop music video to reach 150 million views to date. The Korean pop sensation reached its milestone on Nov. 12, exactly 54 days from its release.
"DNA," which was exactly released on Sept.18, already reached the 100-million mark back in October. The music video was able to set new records for the fast k-pop video to reach 10 million up to 90 million views, wrote Soompi. It also holds the current record for the highest number of views for a K-pop group in the first 24 hours of its release.
BTS now has seven music videos that have reached over 150 million views to date: "Blood, Sweat & Tears," "Boy in Luv," "Dope," "Fire," "Not Today," "Save Me," and now, "DNA." Back in October, the music video for "Blood Sweat & Tears" reached 200 million views, wrote Soompi. This is the group's third music video to reach the 200-million mark, following "Dope" and "Fire."
BTS is nominated for this year's Mnet Asian Music Awards (MAMA) Best Music Video for their track "Spring Day" alongside other K-pop sensations EXO for "Power," TWICE for "Signal," Wanna One for "Energetic," and SEVENTEEN for "Don't Wanna Cry." MAMA is produced by one of South Korea's biggest TV network, Mnet, which is considered as one of South Korea's most famed year-end award shows and has even expanded its popularity all over Asia. According to Billboard, 2017 Mnet Asian Music Awards is scheduled to be held in three different countries and will be split up on three different days in Vietnam (Nov.25), Kapan (No.29), and Hong Kong (Dec.1).
The K-pop group is scheduled to perform at the 2017 American Music Awards on Nov.19. According to Forbes, BTS is the only Korean pop act to reach the Top 10 Billboard 200 album chart.
© 2018 Korea Portal, All rights reserved. Do not reproduce without permission.