Cardi B Gets Engaged To Migos Rapper Offset, Shows Off Ring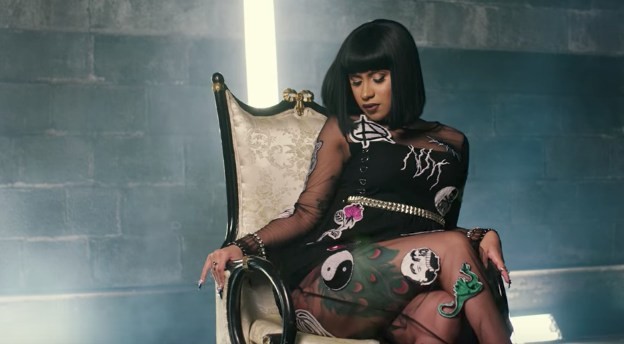 2017 is a great year for the former reality star and now singer Cardi B. On Friday, the 'Bodak Yellow' star tweeted a video of her surprised and excited after Migos rapper Offset proposed to her during a joint performance at Power 99's Powerhouse concert in Philadelphia. Offset proposed to his girlfriend in front of a large, cheering crowd.
In the video, Cardi B seems to be hyping the crowd. Offset then pulled her in front of him, whipped a ring box he was carrying and asked his girlfriend to marry him, saying "You dig?" Cardi seems to be lost for words and appeared to be screaming with excitement. Realization seems to be hitting home for her, as she was tearing up afterward. Cardi B's response was lost to the crowd's cheers, who were obviously following the romantic moment. Friends and family of the two started taking photos and videos of the surprise engagement on their phones as well. Cardi B then quickly composed herself as Offset slip the engagement ring on her finger. The two then held each other in a tight embrace, signaling the engagement as a success. Offset then started off speaking to the crowd, but Cardi B was still lost for words and even shared her moment with a crew member.
Later, Cardi B showed her engagement ring, which was a massive 8-karat, pear-shaped variety. She then thanked her now fiance again, and wrote, "Thank you for seeing the potential in me since you met me.For giving me advice molding me and loving me.Your such a(n) amazing man to me your family, friends, kids and you are extremely talented.I can't wait to spend FOREVAAAA with you. Let's make a lot shmoney and love together."
Pristine Jewelers NYC, where Offset got the engagement ring from, also expressed their congratulations to the hip-hop couple. Twitter fans also shared their reactions about the engagement, ranging from hilarious to ridiculous with the memes and GIFs. The reactions were referring to what seemed to be a misunderstanding last week when Cardi B announced she was "single."
© 2018 Korea Portal, All rights reserved. Do not reproduce without permission.