Halloween Special: BTS Had A Face-off With Zombies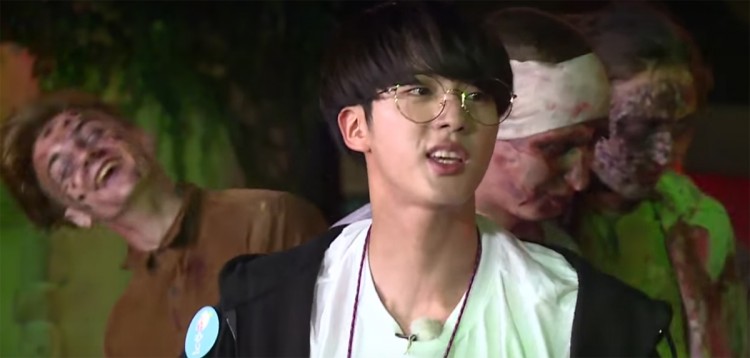 BTS recently aired a Halloween special show "Run BTS!" on the V app. For this show, the boy band was divided into three teams and had a haunted race at Everland, an amusement park in Yongin, Gyeonggi Province.
Rap Monster, V, and Jungkook together made team A; Jin and Suga were in team B while J-Hope and Jimin were in team C. Before the start of the game, BTS members did not know about the whole Halloween special game.
Together they played three games- zombie safari, a secret mission and freeze tag. In the secret mission game, BTS team found hidden tickets for their "ARMY". The more tickets they collected the bigger heart they got for their fan groups.
The bandmates looked panicked while playing the game. Suga said, "I don't even watch scary movies and here I am playing scary games." Jin and Suga later dressed as zombies themselves to frighten their bandmates.
Although BTS members failed in the secret mission, therefore had to play a laser game. In the game, Jimin and Jungkook tried their luck but unfortunately failed to pass the test. Therefore they played the last game freeze tag to get more hidden passes.
The BTS found 34 tickets in all the three games. But Jin came out as a winner. He found six tickets in the freeze tag contest. On his win, he said, "I raced really hard. Look at my face and sweat."
Other teammates encouraged him saying, "Today is the day of Kim Seok Jin." After the game, all the members were served with Halloween special drink to refresh.
Sharing the amazing feeling of this Halloween special game, Rap Monster said, "With so cool and beautiful zombies, we enjoyed horror maze in the Everland." BTS will give away the tickets to their fans. The selection method for the ticket winners will be announced later.
© 2018 Korea Portal, All rights reserved. Do not reproduce without permission.