I.O.I Mini Reunion Set For 2017 MAMA With "Pick Me" Performance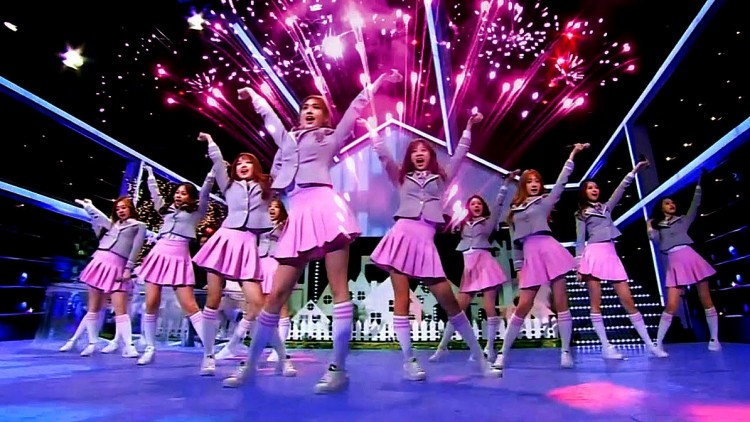 Chungha, Nayoung, Kulkyung, Yoojung, and Doyeon will be sharing a stage at the 2017 Mnet Asian Music Awards in a mini-reunion of I.O.I. The 2017 MAMA shows are scheduled to take place on November 25 in Vietnam, November 29 in Japan and December 1 in Hong Kong.
Naver shares the news provided by a broadcaster who said that the five girls will be doing the performance together almost a year after I.O.I disbanded. (The group broke up at the end of January 2017.) PRISTIN members Nayoung and Kulkyung, Weki Meki's Yoojung and Doyeon, and solo artist Chungha will reportedly perform "Pick Me," the theme song of Mnet's "Produce 101." SBS News says that the report of the upcoming performance was confirmed on October 25.
Chungha, PRISTIN, and Weki Meki are all nominated for the 2017 Rookie of the Year for the best new female artist. Dreamcatcher and Momoland are also nominees for the same Rookie of the Year award.
[BEST NEW FEMALE ARTIST] Support Weki Meki, Chungha, and Pristin! Link: https://t.co/VVH1zYlprA pic.twitter.com/4ZAefZCXto

— teamIOI (@teamIOI) October 25, 2017
I.O.I was the girl group formed out of the winners of "Produce 101." It was a temporary group that was contracted to perform and promote together for less than a year after debuting on May 4, 2016. Following the break-up of I.O.I, its members returned to their separate groups and agencies.
I.O.I had eleven members, so the mini-reunion will bring together less than half of the girl group. The full group included Sejeong, Sohye, Somi, Chaeyeon, Mina and Yeonjung in addition to the five who will perform at the 2017 MAMA. Sejeong is also a nominee this year, but for a different award: Best Vocal Performance Female Solo. That may be why she is not expected to share the stage with Chungha, Nayoung, Kulkyung, Yoojung, and Doyeon at the 2017 MAMA.
© 2023 Korea Portal, All rights reserved. Do not reproduce without permission.