Mozilla Firefox OS For Android Is Officially Out! Preview Available Thru App!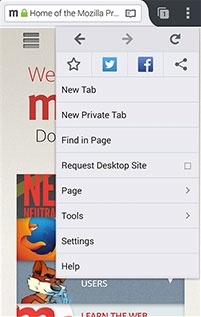 Mozilla has recently released the latest version of their mobile operating system, Firefox OS that is designed for Android devices.
Firefox OS 2.5 is now available for everyone in the world along with its experimental developer preview version app. This latest Mozilla Firefox OS has new features which are the Add-ons, Private Browsing with Tracking Protection and Pin the Web, according to Mozilla Hacks.
The Mozilla Firefox OS' features such as the Add on, extends one to several apps similar to their website version. The Private Browsing with Tracking Protection, avoids any hacker to monitor the user's online activity as well as avoiding third-party spams. The Pin the Web feature allows users to pin their favorite websites to their home screen, according to TechTimes.
The developer preview version is a downloadable app for Android that is capable to replace the home screen with its interface along with installed apps. It can also save any data from your phone and works the same as any third-party launchers, according to International Business Times.
The Mozilla Firefox OS has a participation hub that gives up-to-date information about the latest software for its users. It also offers a B2G-installer add-on that will flash a full port of the OS in an Android handset.
Mozilla Firefox OS Senior Product Manager, Peter Dolanjski said that, " If you're curious to see what Firefox OS is all about, or just interested in testing out new features, the Firefox OS 2.5 Developer Preview app makes it very simple to get started with very little risk involved," according to his post in Mozilla Hacks.
"By downloading the app, you can experience Firefox OS and explore many of its capabilities, without flashing hardware. If you decide you're done trying it out, the app can be removed as simply as any other app. If you're interested in becoming a code contributor or bug reporter, the app makes it dramatically easier to get involved," he continued.
Dolanjski also noted that the Firefox OS is still on ongoing development so there may be still bugs within the system.
© 2019 Korea Portal, All rights reserved. Do not reproduce without permission.