Fans Shocked Upon Seeing WINNER Wearing Prisoner Outfits at the Airport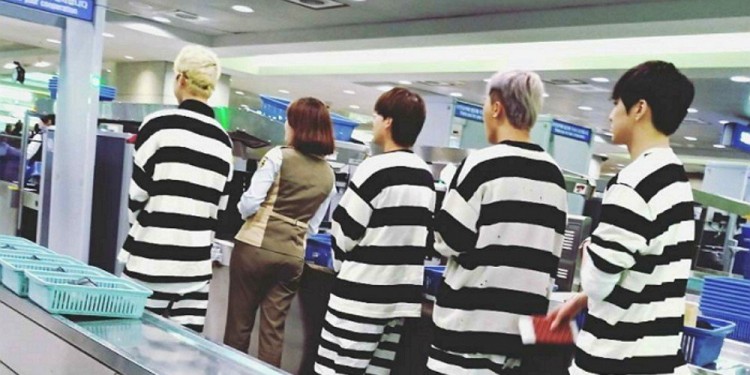 K-Pop fans went abuzz when photos of WINNER members wearing prison outfits circulated online. All four of them were spotted wandering freely inside duty-free shops and talking with staff. It turned out that the idol group boarded the plane to Australia on the same day for their "Youth Over Flowers" shooting.
The mentioned show is one of "New Journey to the West" producing director Na Young Suk's reality shows. It is famously known to "kidnap" a group of celebrity friends on a trip together overseas with no or very little preparation and few belongings.
According to Soompi, WINNER, on the other hand, have constantly been on guard against being kidnapped. In fact, they have begun dressing and packing in advance. However, it looks like the production staff won in the end. The group members were tricked into thinking that they are heading over to filming an ad when requested to wear the prisoner outfits.
You might be wondering why WINNER will be shooting for "Youth Over Flowers". It can be remembered that during the finale of tvN's "New Journey to the West 4" on August 22, the cast made requests of what they wanted to get. Most of them expressed their desire to have brand new and high-end cell phones and video cameras. However, Song Mino, being part of the show, requested to appear on "Youth Over Flowers" with his fellow WINNER members.
Furthermore, "New Journey to the West" even uploaded a photo of the four members, with each holding up signs. Mino made a comic to show his excitement, while leader Kang Seung Yoon's sign states that the production staff doesn't need to bring handcuffs because the group won't resist anyway. "I left my passport in the tvN security office," member Lee Seung Hoon wrote. Kim Jin Woo adds, "We're ready to be taken away; I'm really excited!"
What started as a joke has now become a reality. As of writing, All KPop says that the production for the show had begun. Regarding the exact location of the shooting, the destination will not be disclosed due to safety purposes. Meanwhile, fans are expecting that WINNER members can offer a great show to the public. Watch their great chemistry while playing a recent mission game below.
© 2023 Korea Portal, All rights reserved. Do not reproduce without permission.