'Avengers: Infinity War' Spoilers: A Dark New Storyline For Hawkeye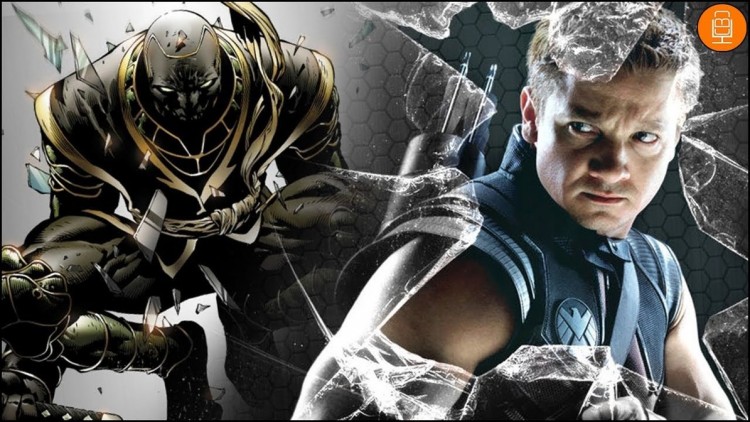 Set photos from the untitled "Avengers 4" film hint at the aftermath of an upcoming Hawkeye storyline in "Avengers: Infinity War." There is no official confirmation of any of the rumors to be discussed here, but the clues to add up to something intriguing. Spoilers (potentially) coming ahead.
Various news outlets have reported that a poster on Russian social media site VK has shared unofficial behind-the-scenes photos of actor Jeremy Renner on the "Avengers 4" set in Atlanta. Renner plays the superhero archer Hawkeye, a.k.a Clint Barton, who has been a member of the Avengers since the first film.
Comicbook.com says the photos show Renner sporting a punk-style hairdo similar to a Mohawk, but this has been known for a while. More tellingly, his left arm is covered with intricate markings, seemingly comprising a large tattoo. These are clues to a possible Hawkeye storyline that predict a major change to the character.
Hawkeye hasn't had an easy time as a hero. In his very first outing in the "Avengers" movie franchise, he got enslaved by a god. At the end of "Captain America: Civil War," Hawkeye became a fugitive from the law. But rumor has it that there is much worse in store for the Avenger.
MCU Exchange suggests that Hawkeye will experience a tragedy in "Avengers: Infinity War" and it will bring about his transformation. There is no way to know what the predicted tragedy might be, but it would make sense for Barton to be traumatized by the loss of a loved one, perhaps his family.
Whatever the event is, Hawkeye will be going down a dark path that leads to a new identity in "Avengers 4." MCU Exchange theorizes that Barton will become the Ronin, the name for a masterless samurai, as he did in the comics after the events of the Civil War crossover event.
© 2023 Korea Portal, All rights reserved. Do not reproduce without permission.
Tags:
Avengers
,
Avengers: Infinity War
,
Avengers 4
,
the avengers 4
,
Avengers: Infinity War news
,
Avengers: Infinity War spoilers
,
Avengers: Infinity War updates
,
Avengers 4 news
,
Avengers 4 updates
,
Avengers 4 spoilers
,
Jeremy Renner
,
Avengers 4 set photos
,
Avengers 4 behind the scenes
,
Marvel
,
Marvel Cinematic Universe
,
Marvel Comics