Martin Shkreli Jailed Over Facebook Post Targeting Hillary Clinton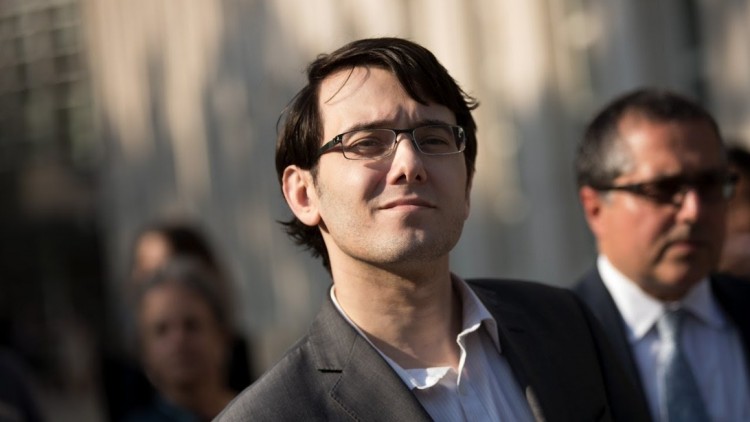 Infamous "pharma bro" Martin Shkreli has landed in jail after a U.S. federal judge revoked his bail Wednesday. The 34-year-old former hedge fund manager had gained international notoriety in 2015 when as then-CEO of Turing Pharmaceuticals, he raised the price of the life-saving drug Dataprim by 5,500 percent.
Shkreli had been out on bail to await sentencing after a federal court found him guilty in August on three counts of securities fraud. His court trial was unrelated to his price-hiking shenanigans, and instead concerned allegations of security fraud involving his MSMB Capital hedge fund and a scheme to corral shares of stock in Retrophin, a company that he founded.
At the same August trial, the jurors found Shkreli "not guilty" of five other charges involving securities fraud and conspiracy to commit fraud. Responding to the mixed verdict, Shkreli said he was delighted by the outcome and suggested that law enforcement had made him a target in retaliation for the price hike of Dataprim and his brash "pharma bro" personality.
Shkreli's kept up this outrageous facade during and after the trial through various social media stunts. On the day the verdict came in, he went on his Facebook Live stream to mouth profanities at his critics, notes Fortune.
He finally went too far with a Facebook post to his followers urging them to harass Hillary Clinton on her "What Happened" book tour. "The Clinton Foundation is willing to KILL to protect its secrets," said the post. "So on HRC's book tour, try to grab a hair from her," Shkreli added that he would pay $5,000 for each strand of Clinton's hair, reports the Guardian.
On Wednesday U.S. District Judge Kiyo Matsumoto heard prosecutors' arguments that this behavior, combined with his alleged online harassment of women, indicated that Shkreli posed a danger to the community. Defense attorney Benjamin Brafman argued that his client had not intended his words to be taken seriously and that his Facebook post was satire, not an incitement to violence.
This failed to convince Matsumoto, who expressed concern that one of Shkreli's followers could indeed take the Facebook post seriously. The judge characterized the post as a solicitation to assault another person for $5,000 and revoked Shkreli's $5 million bail.
The Washington Post reports that Shkreli was immediately taken into custody after the judge's decision. He will be housed in a maximum-security prison to await his sentencing hearing in January.
© 2020 Korea Portal, All rights reserved. Do not reproduce without permission.