'Mischievous Detectives' Cast: Apink's Namjoo, Ahn Hyung Seob and Yoo Seon Ho Reveal Difficulties in New Web Drama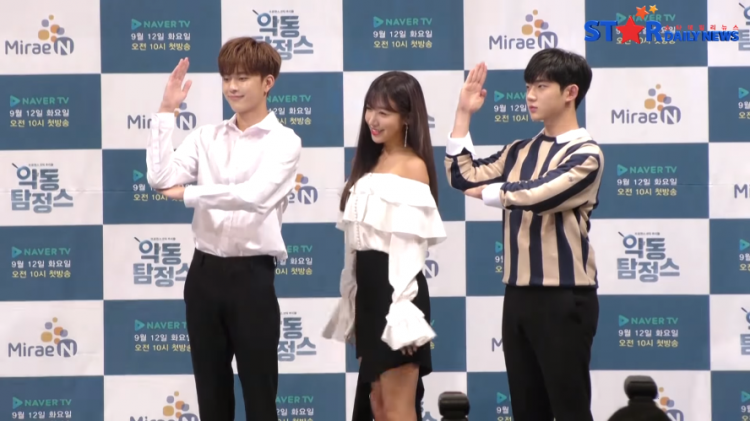 The cast and production of the web drama "Mischievous Detectives" recently held a press conference at the Seoul Imperial Palace Hotel. The web drama's director, Park Sun Jae together with the cast, Apink's Namjoo, Ahn Hyung Seon and Yoo Seon Ho answered questions from the press. The cast was particularly asked about the challenges of filming the web drama according to Soompi.
Both Ahn Hyung Seob (18) and Yoo Seon Ho (15) are from the hit idol survival program, "Produce 101 Season 2" finishing at rank 16 and 17 respectively. Ahn stated that he wants to try different things and make memories that he'll remember forever so he decided to take the challenge of acting. He concluded that it was a good thing to try acting.
Yoo Seon Ho revealed that the script was fun when he read it. He also said that he felt a lot of pressure since this is his first time acting but ultimately decided to accept the project because of Ahn Hyung Seob saying that even if "Mischievous Detectives" is their first acting stint, he can depend on him.
Apink's Namjoo (22) said that the most intimidating thing about working with the two male leads was age. Since she was the oldest among the three actors, she felt nervous and pressured on how she's going to lead them. She stated that she's really moved at times on how the acting of Ahn and Yoo improved every minute. She further said that because of the energy and teamwork of her co-stars, she looks forward to their future.
Ahn Hyung Seob said that even though he is lacking in terms of acting skills since it's his first time; he wants to show the viewers that he can be better. He was thankful to Namjoo for helping them every time they do not know what they were doing. Yoo Seon Ho agreed with Ahn saying that he was really happy working with the two actors.
"Mischievous Detectives" revolves around the characters of Jin Kyung (Namjoo), a passionate detective, Oh Sung (Ahn Hyung Seob) a high school detective specializing in liberal arts and Han Eum (Yoo Seon Ho) a high school detective specializing in natural sciences. The three will investigate the mysterious disappearance of the parents of Oh Sung and Han Eum. This web drama will premiere today on Naver TV.
© 2018 Korea Portal, All rights reserved. Do not reproduce without permission.