'The Sims 4 Cats and Dogs' Expansion Pack: Features, Release Date And Origin Pre-Order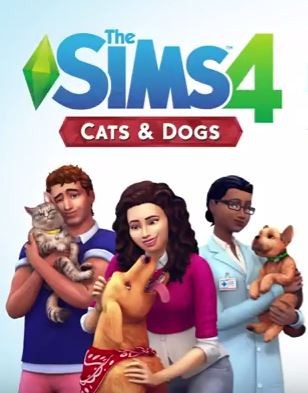 "The Sims 4" will finally have pets on November via expansion pack "Cats and Dogs. It brings the new Create-a-Pet feature, new game mechanics, and a new occupation.
Electronic Arts have a Halloween treat for Simmers around the globe with the announcement of the upcoming "Cats and Dogs" expansion pack for the "The Sims 4." It is available now for pre-orders and will be released on November 10, 2017, according to the official website of Origin.
The expansion pack literally adds two popular animal companions in the real world to "The Sims 4." Both cats and dogs become part of the family similar to the previous game, "The Sims 3." Players can access the new Create-a-Pet feature to add a cat or dog or both then proceed on customizing the paws, fur coats, clothing and more.
Interactions between Sims and pets include playing in the puddle, cuddling on the sofa, going to doctor's appointment and more. This means that players will need to take care of the pet's needs just any other Sims in the game. However, some needs may be exclusive such as cats needing to scratch something or dogs needing to bite which has been seen in the previous game.
In addition to the improvements in the graphics, cats, and dogs in "The Sims 4" seem to have emotions as well and may react according to the environment, giving more realism to the game. This indicates mood, interest, and sociability to Sims and other pets. It may also signify a similar game mechanic to Character Values in pets and can be affected by habits, discipline, and training, based on the official video trailer for the expansion pack.
There are more additions which can be noted in "The Sims 4: Cats and Dogs" such as pets having exclusive skills such as hunting, animal traits, cat jungles, doghouses and learning tricks. Breed is also available on the upcoming expansion pack for both cats and dogs.
For the other aspect of "The Sims 4: Cats and Dogs," EA includes the new occupation Veterinarian and it is available as a playable job. Simmers can create new Sims, choose one of them to become a Vet and then run a personalized pet clinic. It is unknown if running a pet clinic follows the same mechanics of "Get To Work" expansion pack wherein the player must follow Sims to a different lot. Nevertheless, pets make excellent companions for Sims by helping increase the Social need, accompany Sims to physical activities such as jogging or swimming and adds more fun to the game.
© 2018 Korea Portal, All rights reserved. Do not reproduce without permission.