K.A.R.D Subjected To Racism In Brazilian Show, Host's Son Apologizes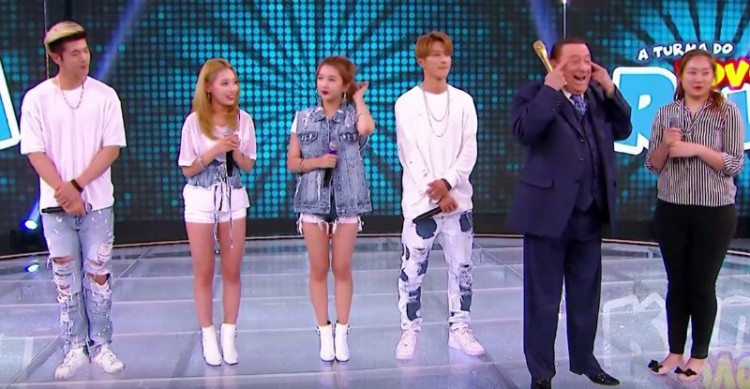 Fans of co-ed K-pop group K.A.R.D. were offended when a host of popular Brazilian variety show made some racist comments against the group's members. While there were those who thought that the host was merely joking around, many fans took a strong stance against racism in any form because of the comments.
In a guesting by K.A.R.D for the Brazilian variety show "Turma Do Vovo Raul," for the segment "Raul Gil", four kids were performing the dance choreography for K.A.R.D's song when K.A.R.D appeared from behind them. After the number, the kids were asked where they thought K.A.R.D members were from, SBS Pop Asia reported.
When one of the kids was unable to answer, the host quipped: "needs to open his eyes, right?" referring to the members' small eyes. He also delivered the joke while imitating a Japanese accent fueling, even more, perceptions of racism.
The Brazilian host further compounded the offense when in the next segment, audience members were asked to come up on stage for a brief interview. The Brazilian host again repeated his joke against K.A.R.D member, this time making a slant eyed gesture.
Netizens immediately expressed disgust and disappointment over how K.A.R.D was treated on the show and said that the racist slurs were deliberate and uncalled for. Some netizens who hail from different parts of the world said that the Brazilian host should immediately be fired after the gaffe.
Meanwhile, the director of the show "Turma Do Vovo Raul," who also happened to be the host's son Raul Gil Jr. apologized for any offense that the show has caused against K.A.R.D. He said that his father did not intend to disrespect his guests at any point, All Kpop reported.
"My father has always been an extremely polite person and he has not thought of disrespecting anyone," the director of the show said about the K.A.R.D racism issue." If there was any kind of misunderstanding or if anyone was offended, I believe that he and I, both production and director, are really apologetic."
© 2018 Korea Portal, All rights reserved. Do not reproduce without permission.