'Game of Thrones' Season 7 EP1 Highlights : Daenerys' Arrival, Upcoming Naval Fight, Ed Sheeran's Appearance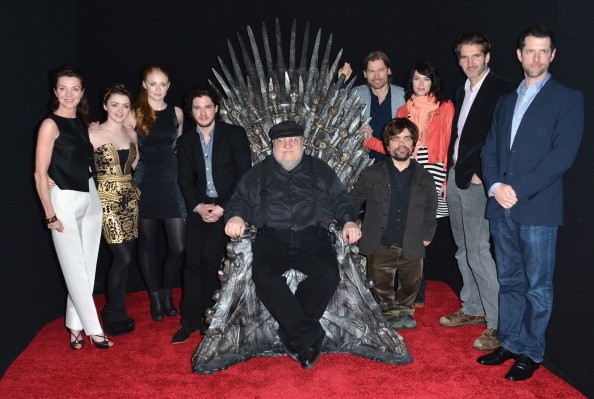 "Game of Thrones" Season 7 episode 1 was as explosive as it can get with Daenerys Targaryen's arrival in Westeros, the revival of Dragonstone and Ed Sheeran's cameo appearance. The episode set the stage for the seemingly another climatic season finale and showed where some of the characters were heading while foreshadowing their fates.
Daenerys finally arrived in Westeros through the Dragonstone's shore. The Dragon Queen established her camp in the Dragonstone base, which was rightfully hers as per her roots.
Cersei Lannister, on the other hand, entertained Euron Greyjoy's schemes, making a loose alliance with him. To win the Queen's hand in marriage, Greyjoy, the King of Iron Islands, declared that he was to battle against Yara and Theon Greyjoy.
The Hound, Sandor Clegane, revisited the farm where he stayed with Arya just before the Red Wedding and his premonition for the upcoming battle in the North showed a battle in Eastwatch. He asked Beric Dondarrion what was so special about him that he could cheat death.
Arya Stark was seen heading to King's Landing when she stumbled upon a small group of Lannister soldiers. She joined the soldiers in their mini camp fire and told them after some time that she was going to kill the Queen, which the soldiers just laughed off.
Another highlight of "Game of Thrones" Season 7 episode 1 was the scene when Arya Stark chanced upon a boy eating a rabbit. The latter was played by Sheeran.
Maise Williams was one of those who enjoyed Sheeran's appearance because she was a huge fan of the musician. Viewers have yet to see if the "Shape of You" singer will have more appearances in the HBO series.
Moreover, Lord Baelish tried to manipulate Sansa Stark to make a move against Jon Snow knowing that the two had opposing views on how to lead the troops. In the end, the Stark lady succeeded in ignoring Belish's plans for her to oppose her King brother.
It is still early to conclude that Sansa will not fall for Baelish's manipulating words. Theories are claiming that Jon Snow and Daenerys will be meeting for the first time in Dragonstone.
Fans already have many theories about what will happen in "Game of Thrones" Season 7 episode 2. Because of the faster pacing of the show, some fans expect expect that the Blackwater rematch will happen in the upcoming episode.
© 2018 Korea Portal, All rights reserved. Do not reproduce without permission.