Tom Holland & Zendaya Dating: 'Spider-man Homecoming' Stars Become Third Spider-man Couple To Transtion From Reel To Real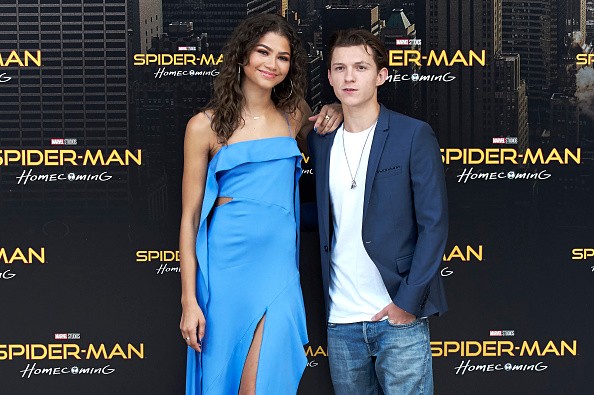 Spider-Man: Homecoming's young stars Tom Holland and Zendaya are reportedly dating. The two co-stars reportedly fell in love on set and hit it off, sparking the romance.
According to a report by E!, an insider shared Holland and Zendaya 's real life romance stemmed from the fact they both got along well together and made each other laugh. While the pair has not confirmed their dating, the source maintained they were indeed in a relationship.
"They got to know each other while on set. They became friends and started getting romantic a few months ago," the source told E!. The source added that Holland and Zendaya share similar traits with each other and are very well liked on set. They were also on the same page in debunking rumors about their relationship with humorous retorts.
When Zendaya tweeted about how funny reports about the pair vacationing together were, Tom didn't miss a beat and quipped if the press tours counted as "taking trips together." Still, while the admission seems to be taking a while, the pair have posted on Instagram red carpet photos of them together fueling fans' belief that their strong chemistry is coming from something more.
In the latest Spider-Man movie, Tom Holland plays Peter Parker in his high school days. While his love interest in the beginning of the movie was a girl named Lisa, played by Laure Harrier, the franchise revealed towards the end of the movie that Zendaya's character Melissa was indeed MJ, Peter Parker's future beau.
If Tom Holland and Zendaya confirm dating rumors, they will be the third set of actors to fall in love on the set of the Spider-Man movies. It can be recalled that Tobey Maguire and his leading lady Kirsten Dunst fell in love during the filming of the first Spider-Man movie and broke up before filming started in the second one. Andrew Garfield and Emma Stone, on the other hand, started getting romantic while filming the Spider-Man reboot "The Amazing Spider-Man" and broke up in 2015 but the pair remain friendly and supportive of each other, judging by Garfield's enthusiastic standing ovation for Emma Stone's Golden Globe win for "La La Land," Cosmopolitan reported.
© 2018 Korea Portal, All rights reserved. Do not reproduce without permission.