Google Pixel 2 XL Might Be Released With Significant Challenges, Vibrant Colors & Less Glass Design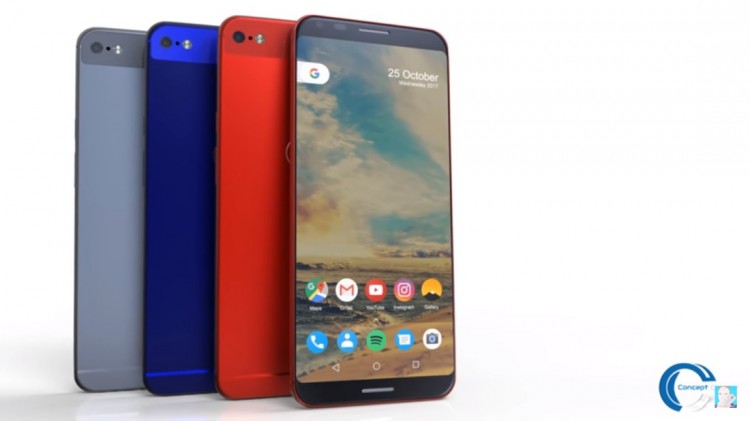 There are many predictions over the Google Pixel 2 XL design and the latest prediction has completely changed the way we are thinking about the upcoming smartphone. Google's next flagship is expected to face significant design challenges including vibrant colors and less glass. HTC and LG are also rumored to be involved in the manufacturing process of the next generation Google devices.
After the implementation of the fuller display, it is expected that Google Pixel 2 XL might have a fully functional display with curved edges. The release of Samsung Galaxy S8 and LG G6 has set a new standard for the next generation devices. Now, Google might be going to implement full HD display with curved edges and it is rumored that the search giant is seeking the help of HTC or LG for the display solution.
On the other note, Google has decided to keep the specification of Google Pixel 2 XL as low as possible. But there are many Google enthusiastic including Concept Creator who has predicted the design concept of upcoming Google flagships. The YouTuber has already and accurately predicted the design concepts of Samsung Galaxy S8 and many other smartphones.
According to Value Walk, Google Pixel 2 XL concept features a large display, although not quite the wraparound screen that may have been anticipated. This technology has proven to be hugely popular in 2017, with Samsung introducing it in the Galaxy S8 generation and OnePlus the following suit with the OnePlus 5. There must be a design similarity between this Google Pixel 2 XL and LG G6 release.
Google Pixel 2 XL may feature slightly less glass on its rear than in previous releases. The rear panel of the device only includes camera and flash and the fingerprint scanner downed to the aluminum frame instead. This again follows the trend of the smartphone industry where integrated features are gaining huge popularity.
© 2023 Korea Portal, All rights reserved. Do not reproduce without permission.