Eminem, Kendrick Lamar Honor Prodigy With 'Survival Of The Fittest,' 'Genesis'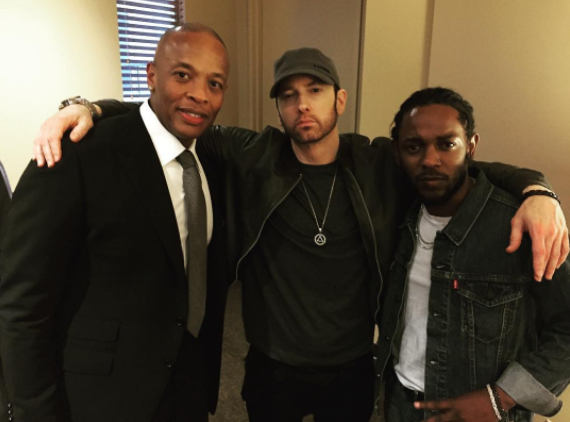 The unfortunately passing of Albert Johnson, who is professionally known as Prodigy, on June 20 shocked the world of hip hop. Among the rappers who paid tribute to the late rapper were "Love Game" collaborators Marshall Bruce Mathers II, who is professionally known as Eminem, and Kendrick Lamar.
Prodigy died in a hospital in Las Vegas, Nevada, reportedly due to complications with sickle cell. He and Kejuan Muchita, who is professionally known as Havoc, had a hip hop duo called Mobb Deep.
To pay tribute to Prodigy, Eminem and Lamar rapped Prodigy's lyrics during a guest appearance on Peter Rosenberg's show "Real Late" on Hot 97. Eminem performed Prodigy's verse from Mobb Deep's song "Survival of the Fittest" while Lamar performed "Genesis," according to XXL Mag.
Released on May 29, 1995, "Survival of the Fittest" was the second song from Mobb Deep's second album titled "The Infamous." The song was produced at Havoc's apartment in Queensbridge, recorded at Battery Studios and mixed at Unique Recording Studios.
On the other hand, "Genesis" is one of the 22 tracks from Prodigy's debut solo album titled "H.N.I.C." It was released on Nov. 14, 2000.
"I just want to say rest in peace to Prodigy," Eminem said before the end of the "Real Late" program. "We love you, Homie. Hip-hop loves you. You will forever be missed."
Eminem is currently working on his upcoming ninth studio album. Lamar is one of the artists rumored to be featured as a collaborator in the album.
Meanwhile, Lamar recently released a new video for his new song "Element." He co-directed the video with Jonas Lindstroem and Top Dawg Entertainment President Dave Free, according to Rolling Stone.
"Element" is one of the 14 tracks from Lamar's fourth studio album titled "Damn." He co-wrote the song with James Blake, Mark Spears and Ricci Riera.
© 2023 Korea Portal, All rights reserved. Do not reproduce without permission.