'Making A Murderer' Season 2 Spoilers: Steven Avery Released, Ryan Hillegas Guilty?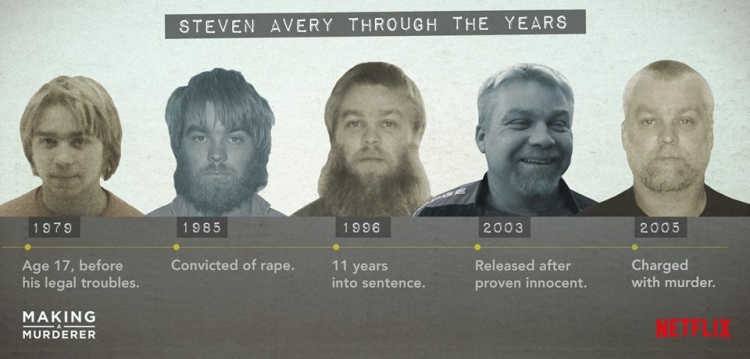 Netflix has yet to announce the release date of "Making a Murderer" Season 2. Among the things fan want to see is whether or not Kathleen Zellner can prove that Ryan Hillegas is guilty, which will exonerate Steven Avery.
In "Making a Murderer" Season 1, which was released by Netflix on Dec. 18, 2015, viewers learned that Avery spend 18 years in prison after being wrongfully accused of sexually assaulting Penny Beernsten. In 2003, he was exonerated by DNA evidence.
Only two years after being released from prison, Avery was arrested for another charge. He and his nephew Brendan Dassey were accused of murdering Teresa Halbach.
The arrest, prosecution and conviction of Avery and Dassey were covered in "Making a Murder" Season 1. Federal Judge William Duffin ordered on Nov. 14, 2016 that Dassey should be released from prison within 90 days if Wisconsin prosecutors do not move forward with a retrial, but three days later, the U.S. Court of Appeals for the Seventh Circuit blocked the release of Avery's nephew while the appeal is being heard.
One of the recent developments of the case is the new suspect presented by Zellner. In the documents she filed at the Manitowoc County Courthouse, Avery's lawyer claimed that Halbach's boyfriend Hillegas was the real murderer, USA Today reported.
According to Zellner, Hillegas saw Halbach on Oct. 30, 2005, the day of her death. To avoid being suspected, he did not give any alibi, the lawyer said, but the court's transcripts do not show that he was even questioned about it.
In an attempt to prove Avery's innocence, Zellner has filed motion for a new trial, which included sworn affidavits from 10 law enforcement, legal, medical and scientific experts.
Recently, it was revealed that costs associated with Avery's latest appeal have exceeded $600,000. Court records show that they have spent $232,542 on experts and $428,000 in legal fees, Appleton Post Crescent reported.
It has yet to be confirmed whether or not "Making a Murderer" Season 2will be released in time with Avery's new trial. The second season of the Netflix show is also expected to have 10 episodes released on the same day like the first season.
© 2023 Korea Portal, All rights reserved. Do not reproduce without permission.