Park Shin Hye Reprised 'Doctors' Role For Special Fan Service At Hong Kong Event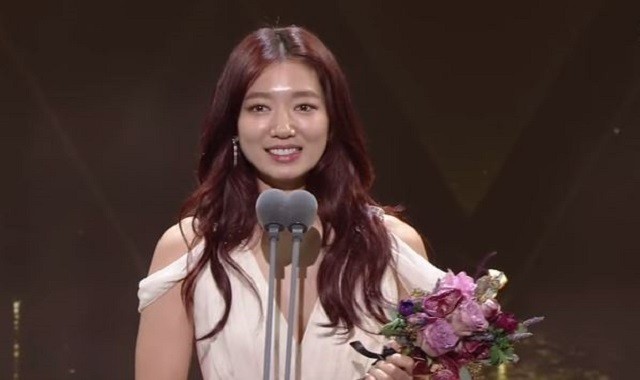 Avid fans of the South Korean actress Park Shin Hye received a special treat during the said celebrity's recent Hong Kong fan meeting. The former child star even reprised her role in the SBS drama "Doctors" as she gave heartfelt advice to some of the event attendees.
Park Shin Hye recently traveled to Hong Kong to meet her Asian fans in the first leg of the said celebrity's 2017 fan meeting tour. Titled the "Flower of Angel" fan meeting, the said event was filled with musical performances, games and a special consultation portion that brought the actress closer to her fans.
In an announcement released by Park Shin Hye's agency, as obtained by Yonhap News, S.A.L.T. Entertainment shared that the actress donned a doctor's gown during the Hong Kong fan meeting as she temporarily reprised her Dr. Yoo role in "Doctors." With some of the fans sharing their problems and anxieties through handwritten notes, the actress conveyed her advice and special message via a written prescription that she shared during the event.
Apart from the special consultation portion, Park Shin Hye also regaled her Hong Kong fans with her musical prowess. The "Heirs" star performed six songs including a track from the soundtrack of the 2016 drama "Doctors."
Park Shin Hye even showed off her cooking skills by preparing a special lunch box during the Hong Kong fan meeting. Dubbed the "three-stage lunch box," the special food pack consisted of sandwiches, fruit slices, and rice balls.
Meanwhile, the "Doctors" star is set to travel to three other countries for the remaining leg of her Asian meet-and-greet tour. Moreover, proceeds of Park Shin Hye's 2017 fan meeting will be donated to the Korea Food for the Hungry International (KFI) to help less fortunate children, All Kpop reported.
Park Shin Hye is set to travel to Taiwan in the early part of July to meet her fans. The "Doctors" actress will then visit Thailand and the Philippines for the final leg of her 2017 fan meeting tour.
© 2023 Korea Portal, All rights reserved. Do not reproduce without permission.