Kristen Stewart, Robert Pattinson Relationship: FKA Twigs' Fiancé Desperate To Do Another 'Twilight' Movie? 'Cosmopolis' Actor Using Ex To Save Career? [RUMORS]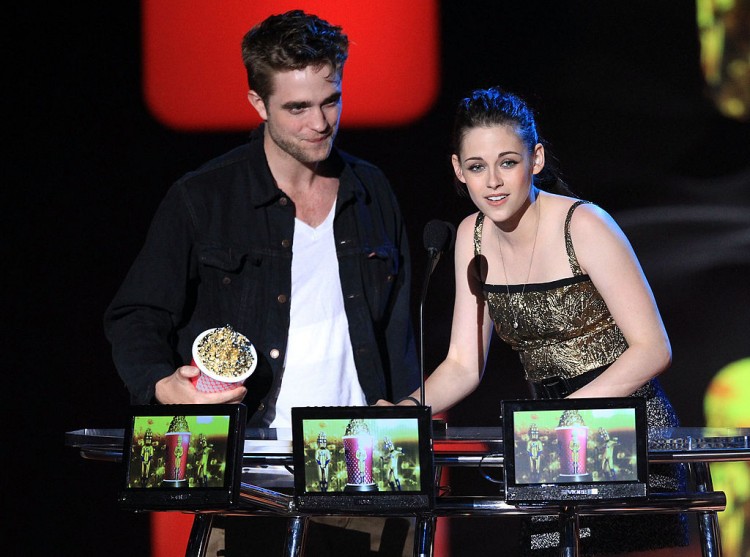 Kristen Stewart and Robert Pattinson are expected to do another "Twilight" movie together after it was confirmed that Stephenie Meyer is writing another sequel to the popular vampire-themed series. While the "New Moon" actress has already expressed that she is not yet ready to do another movie soon, the fiancé of FKA Twigs is now reportedly convincing his former girlfriend to reunite with him and save his career.
Blasting News reported that the relationship of Robert Pattinson and FKA Twigs is getting shaky after it has been announced that the actor could be making another "Twilight" movie. According to the news outlet, the "Eclipse" actor is very much willing to reprise his role as Edward Cullen in another "Twilight" sequel.
Speculations have it that Robert Pattinson is now desperate to reignite his once-shining and shimmering career. Sources have even claimed that the "Water for Elephants" actor started getting lesser project offers and endorsements since his breakup from Kristen Stewart.
There are also claims stating that Robert Pattinson is now starting to regret his relationship and engagement with FKA Twigs. This might also explain why the "Breaking Dawn" actor is very eager to do another movie with his former ladylove, Kristen Stewart.
Meanwhile, Poor Primadonna has previously claimed that FKA Twigs had an awkward encounter with Kristen Stewart at the MET GALA. Reports have claimed that the fiancée of Robert Pattinson was seen being hugged by the "Café Society" actress when they had a brief run-in in the red carpet.
There were also speculations that FKA Twigs was not happy seeing Robert Pattinson and Kristen Stewart getting reunited with each other at the said event. "[Kristen] was just overjoyed to see Rob. They both were happy to see each other. It had been such a long time. Kristen and Rob gave each other a big hug," a HollywoodLife.com source revealed.
While there is still a chance for Kristen Stewart and Robert Pattinson to make another "Twilight" movie, no official details about it has been announced up to this writing; hence, fans should take things with a grain of salt. Stay tuned to Korea Portal for the latest news and updates about Kristen Stewart and Robert Pattinson!
© 2022 Korea Portal, All rights reserved. Do not reproduce without permission.