BTS Believes In ARMYs' love
by
Ella
/ May 19, 2017 09:01 PM EDT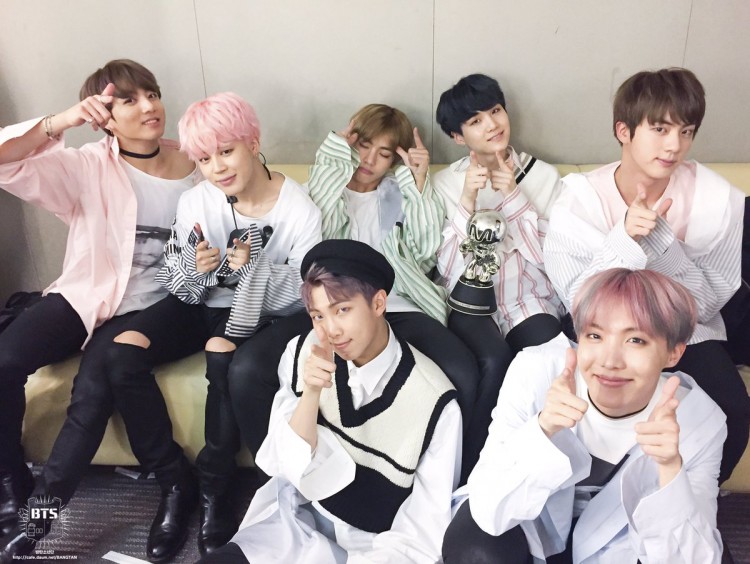 Let's face it - when it comes to fandom power, BTS' fans are somewhere in the forefront. ARMYs are known for their ability to effortlessly trend any BTS-related matter on Twitter and they're also the ones responsible for putting BTS on several music charts locally and internationally - one of them the American Billboard music chart.
The love is mutual of course, as BTS also shows how much they believe in their fans. On the group's recent 'BTS Gayo' broadcast on V Live, the boys were given a mission to produce a music video by themselves for their old song 'Spine Breaker'. The members designated each other roles: Rap Monster as the director, J-Hope as assistant director, Suga in charge of food, V as mental 'carer', Jimin as luggage boy, Jungkook as the cameraman, and Jin as their stylist and choreographer.
BTS members requested that if their old track 'Spine Breaker' enters the top 50 charts after their self-produced music video is released, the staff will have to grant their wishes. J-Hope then exclaimed, "This is so possible. You can't disregard our fans!" Jin continued with, "Remember when we received the grand prize at a music awards ceremony last year? We sang our fan song 'Two! Three!' and I believe that song secured the top 10 on music charts."
Even though the 'Spine Breaker' music video was made playfully and not to be taken seriously, BTS firmly believes in ARMYs' ability to put an old song of theirs back on today's charts. After all, it's entirely possible - just recently 'Fire' jumped to the 4th spot of Billboard's Top Twitter Tracks.
BTS has never failed to acknowledge the efforts made by ARMYs all over the world. In every winning speech and a thank you message, the members always make sure to include their fans. According to them, they wouldn't be recognized in the west or be as big as they are now if it weren't for the love and dedication of ARMYs.
© 2018 Korea Portal, All rights reserved. Do not reproduce without permission.