'Clash of Clans' 2017 Latest News & Update: New Jump Spell Event Is Now Live, Get 90% Off For Selected Spell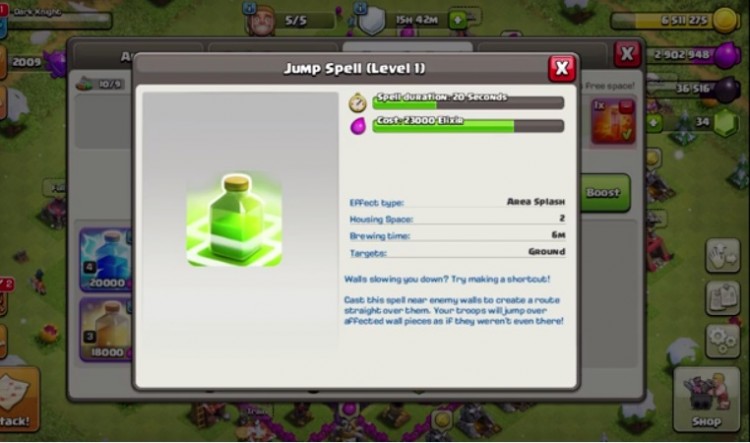 Supercell brings another event in the popular mobile game "Clash of Clans." The new event called the Jump Spell Event and it is now live for all players.
The new update of the "Clash of Clans" game brings the new Jump Spell Event, and with this new event, players could get and brew jump spells on discounted price. The brewing of latter spells is now 90% than the original cost. The event was first announced through social media account, Twitter.
"Clash of Clans" players can now brew level 1 jump spell for just 2,300 elixir, level 2 jump spell now costs just 2,700 elixir and it lasts for 40 seconds, and the level 3 jump spell, which lasts for 60 seconds, can now be brewed for just 3,700 elixir. The original costs of the mentioned jump spells are 23,000, 27,000 and 37,000 elixir, respectively.
Jump spells are very effective on the strategic play on the "Clash of Clans" game. For most of the players, when attacking enemies with higher TH bases with high level walls, using jump spell is very convenient and effective than using a lot of earthquake spells to destroy the walls and penetrate the bases.
Since Christmas, Supercell has been launching different events in the "Clash of Clans" games. Dragon events, wizard events, hog rider events, and more. Events are, of course, beneficial to the players where they could get useful and precious rewards, like the XP increase and gems. Before the Jump Spell event, players have previously enjoyed the Freeze event which just ended recently.
These coming months, more events are expected to come in the "Clash of Clans" mobile games. More rewards and cool stuff players could get in whether for big discounts or completely free. Supercell hasn't tease any upcoming event, but we might receive new news update after the current event ended.
© 2018 Korea Portal, All rights reserved. Do not reproduce without permission.