NVIDIA GTX 1080 Ti Benchmark Results Prove The GPU Is Four-Times Faster Than The AMD Radeon Pro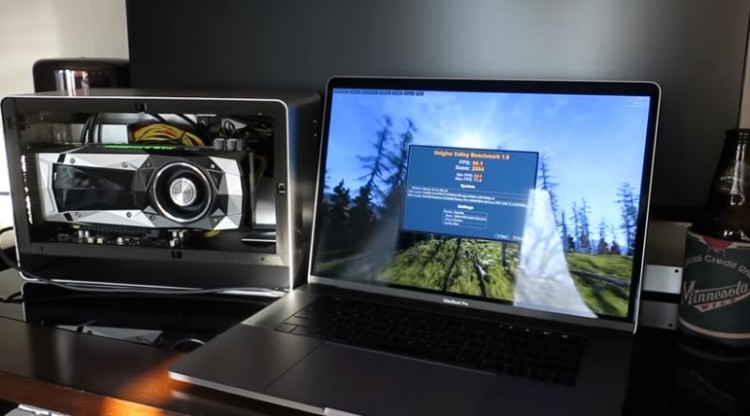 The competition between NVIDIA GTX 1080 Ti and AMD Radeon Pro recently ended by series of benchmarks and tests. A lot of tests shows the NVIDIA's GPU is more powerful than the AMD's GPU.
Using the NVIDIA's new Mac drivers, the Pascal 10XX series of cards brings to the macOS for the first time, though it really needs driver to use the big hardware on slim laptop. And using a 2016 15-inch MacBook Pro, the benchmark result is very surprising. It was found out that the NVIDIA GTX 1080 Ti put in benchmark scores four times faster than the speed of a MacBook Pro relying on stock internal Radeon Pro 460 graphics. The results make even better when the external GPU was used with an external display, instead of routing the video signal back into the MacBook.
In the other test, in the Luxmark 3.1 benchmark, the AMD Radeon 450 scores 5,822 and Radeon 460 scores 6,056 while the NVIDIA GTX 980 scores 22,673 and the GTX 1080 Ti scores 23172. This result is again proving the power and speed of the GTX GPU.
More benchmarks result has similar gaps in performance, in the Valley 1.0 benchmarks, the results show that the AMD Radeon Pro scores 706 while NVIDIA GTX 1080 Ti scores 2,353 on internal display and 3,031 on external. The same in Heaven 4.0 test, which AMD Radeon Pro scores 360 whereas, NVIDIA GTX 1080 Ti scores 1,422 and 2,460 for internal and external display, respectively.
Based on these tests and results, it is not impossible that the Apple might end up supporting external GPUs in a plug-and-play manner to start the era of external GPU. However, the external GPU is usually expensive, the NVIDIA GTX 1080 Ti, in fact, costs $700. Although, if this prediction happens, the eGPU era, a lot of lesser expensive hardware might come, better alternatives for expensive GPUs.
© 2018 Korea Portal, All rights reserved. Do not reproduce without permission.