Eminem Album 2017 Release Date, News & Update: April 30 Launch Predicted; Adele, Dre. Dre, Lana del Rey, Imagine Dragons Collaborations Possible?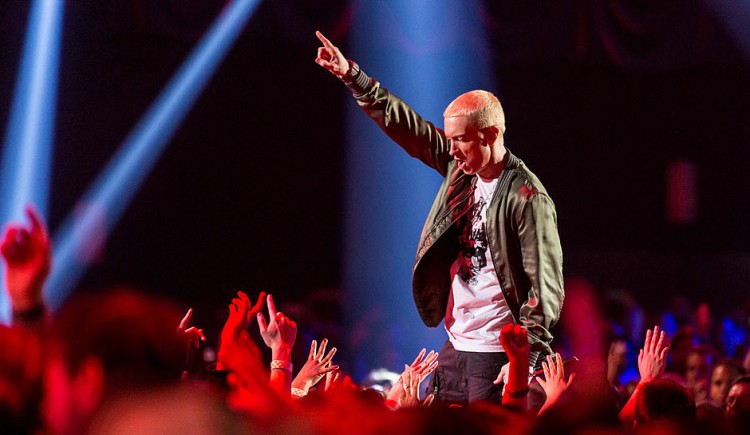 Millions of fans are now excited for the upcoming release of Eminem Album 2017. Now, new reports are claiming that the much-awaited album is going to be released before April 30.
Daily Detroit reported that Eminem was seen in public alongside manager Paul Rosenberg earlier this month. According to the news outlet, the "Rap God" rapper is not actually fond of showing himself to the public, which is why several fans got shocked when he was seen in a 7 Eleven outlet few weeks ago.
Paul Rosenberg, the manager, has shared a photo of him along with Eminem in the said store outlet. While the image looked like a typical selfie of the duo, some avid followers of the "Lose Yourself" rapper have noticed that "April 9" is written on his right palm.
Because of this, fans cannot help but speculate that Eminem Album 2017 release is coming nearer and nearer. Reports have it that the date written on the "Love the Way You Lie" rapper's hand is actually the release date of his much-awaited album.
However, the release of the Eminem Album 2017 did not happen on the predicted date, which totally disappointed most of his fans. While a number of followers got totally hopeless, there are still a few who believe that it might be released before April 30 ends.
Meanwhile, Korea Portal has previously reported that the much-awaited Eminem Album 2017 could possibly be released on the "Not Afraid" rapper's 45th birthday on October 17. It was also revealed that Eminem is very possible to do a collaboration with other artists such as Adele, Dre. Dre and Mastein Bennet.
Speculations have it that the much-anticipated Eminem Album 2017 will also include songs such as "Bulletproof" and "Success." There were also rumors claiming that the "'Til I Collapse" rapper will be doing songs together with Vince Staples, 50 Cent, Imagine Dragons and Lana Del Rey.
Up until now, no official details about the Eminem Album 2017 have been confirmed; thus, fans should take everything with a grain of salt until it has been proven true and correct. Stay tuned to Korea Portal for the latest news and updates about Eminem Album 2017.
© 2018 Korea Portal, All rights reserved. Do not reproduce without permission.