Director Kwon Oh Kwang's Black Comedy 'Collective Invention' Serves Tasteful Satire on Social Issues in South Korea, Places Fifth in Weekly Box Office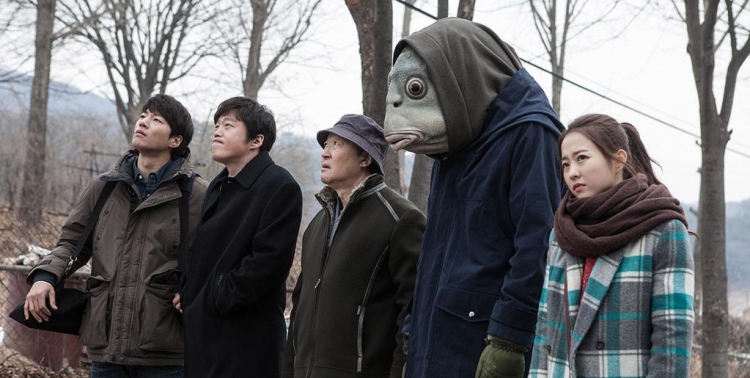 Rookie director Kwon Oh Kwang has presented a satire on the qualms of South Korean society in the finely tuned black comedy titled "Collective Invention'.
Kwon's directorial debut tells the story of Park Gu, a young man with low income who, desperate to cash in some money, takes a medicine that accidentally turns him into a half-fish mutant.
The movie's appeal does not rely solely on its dark comedic offering and fish-out-of-water character, but also on its socially conscious storyline, which identifies many of the social problems in South Korea including high youth unemployment, Korea Times writes Sunday.
Korean JoongAng Daily reports Friday the film's approach on social issues earned "Collective Invention" an invite to the Toronto International Film Festival where it premiered in the festival's Vanguard category in September.
It also received a nomination for the Taiwan-based Golden Horse Awards.
In South Korea's weekly box office round out "Collective invention" placed fifth, having earned $513,000 between its premiere on Thursday to Friday, Variety notes Wednesday.
The film's lead protagonist, the half-fish half-man Park Gu (Lee Kwang Soo) was inspired by Rene Magritte's 1934 painting "The Collective Invention" which features a fish with human legs.
"The creature, which looks like a fish on the top half, looks very uncomfortable lying on the beach. It is not even in the water. It looks very lethargic, and I thought that was what young people around me, preparing to be a civil servant or to get a job, not because they want to but just because they have to, looked very much alike," Kwon said on the relation between the creature in the painting and society in general.
"Collective Invention" also stars Park Bo young, Lee Chun Hee, Jang Gwang and Kim Hee Won.
Director Kwon is widely recognition for his work as the writer of "Safe", the first ever Korean film to receive the Palm d'Or for a short film at the 66th Cannes International Film Festival.
Speaking to Korea JoongAng Daily about his aims for the movie, Kwon said, "By showing an array of social issues in Korea, I wanted to imply that maybe Gu [the half-fish, half-human character played by Lee Kwang-soo] is not the mutated one, but actually society is."
While the movie delves on the problems in society, Kwon also wants the movie to be a beacon of hope.
He added, "By showing the least-likely ones breaking out of their shells to opt for a brighter future and real happiness, I hoped it would ring a bell with the audience."
© 2023 Korea Portal, All rights reserved. Do not reproduce without permission.