Korean Tech Giants Samsung And LG See Operating Profits Rise In Q2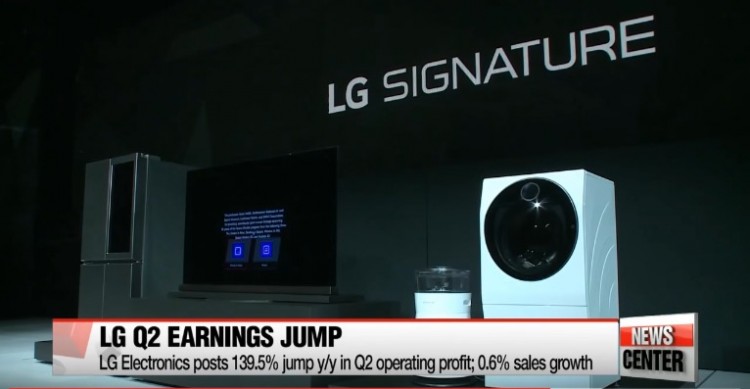 LG Electronics recently announced that in 2016, the company achieved a net profit of 126.300 billion Won (101.1 million euros / 108.3 million). This is representative of the fact that the company observed a 49.2 percent less profit than the year before continuing losses.
However, the South Korean technology company increased its operating profit by 12.2 percent to 1.34 trillion won (1,073 million euros / 1,151 million) owing to the good performance of its appliance division, air systems conditioning and audio-visual products for the home.
Its turnover reached 55.37 trillion won which makes up to 44.338 million euros or 47.564 million dollars. This figure represents a two percent decline as compared to the 2015 statistic, as reported earlier by the company in a statement.
In the fourth quarter, its sales revenue reached 14.78 trillion won (11.839 billion euros / 12.696 billion US dollars), up 1.5% year-on-year and 11.7% above those of July-September.
However, in the fourth quarter of 2016 the company recorded a net loss of 258.8 billion won (207.3 million euros / 222.3 million dollars), an increase of 84.2 percent year-on-year due to the poor situation Of its mobile division.
This business was also the main driver of its October-December operating loss of 35.2 billion won (28.1 million euros / 30.2 million dollars) and contrasted with the profit of 348.9 billion, 1 million euros / 299.5 million dollars) harvested in the same period of 2015.
The lack of success of their smartphones especially models like the G5 among consumers face increased competition from Chinese manufacturers made in October-December this division recorded for the sixth consecutive quarter, an operating loss in this case 467,000 Million won (€ 373.4 million / $ 400.5 million).
Its sales in that period fell 21 percent year-on-year to 2.9 trillion won (2,318 million euros / 2,486 million dollars).
For the full year, the operating loss of the telephony division soared 945 percent from 2015 to 1.25 trillion won (998 million euros / $ 1,071 million).
Looking ahead to 2017, the Seoul-based company simply said it hoped the launch of its new flagship mobile, the G6, would "greatly help improve" the company's financial balance sheets.
© 2019 Korea Portal, All rights reserved. Do not reproduce without permission.