IBM's Annual Profit Drops 10% To $11,872 Million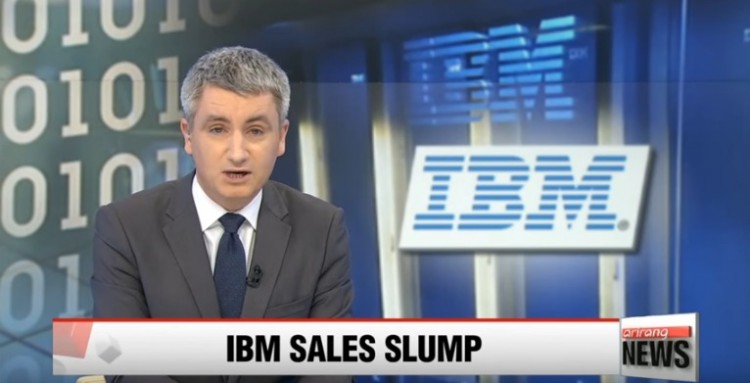 IBM recently announced a 10 percent decline in last year's net profit of $ 11.87 billion, although the fourth quarter closed it with better than expected data.
Realizing today its results for the last quarter of 2016 and the fiscal year, the company reported net profit per share was $ 12.38 last year, compared to $ 13.42 in the fiscal year of 2015.
'Big Blue' turnover for the year as a whole was $ 79,919 million (€ 75,395 million), 2.2% less than in 2015, with a decline of 1.3% between October and December. which extends the falling sales of IBM ( IBM.NY ) to 19 consecutive quarters.
Throughout 2016, IBM had revenues of $ 79,919 million, down from $ 81,741 million in the previous year. As for the last quarter of the year, IBM had a net profit of $ 4.501 billion, up from the 4,463 registered in the fourth quarter of 2015.
The quarterly profit was $ 4.72, compared to $ 4.59 in the same period in 2015, although revenue fell 1.3 percent to $ 21.77 billion, up from $ 21.640 according to analysts.
"By 2016, our strategic imperatives have risen to more than 40 percent of our total revenues and positioned us as the industry leader in cloud computing and platform solutions," said Ginni Rometty, president and CEO of IBM.
Adjusted earnings per share from October to December were $ 5.01, up from $ 4.88 for analysts. This result in the last quarter offset the results of previous periods, since between January and September of last year IBM had a reduction of 15.5% in its net profits compared to the same period of 2015.
IBM is trying to change its business model to gamble more on business services, artificial intelligence and virtual storage, which it calls "strategic imperatives."
"In 2016, our strategic imperatives grew to represent more than 40% of total revenue," said IBM president Ginni Rometty, reporting the official results in an official statement.
The results were released at the close of Wall Street, but in the subsequent electronic trading the securities of the firm, which is part of the Dow Jones industrial group, were recording a decline of 2.13%.
© 2020 Korea Portal, All rights reserved. Do not reproduce without permission.