Samsung's Shares Skyrocket And Hit Record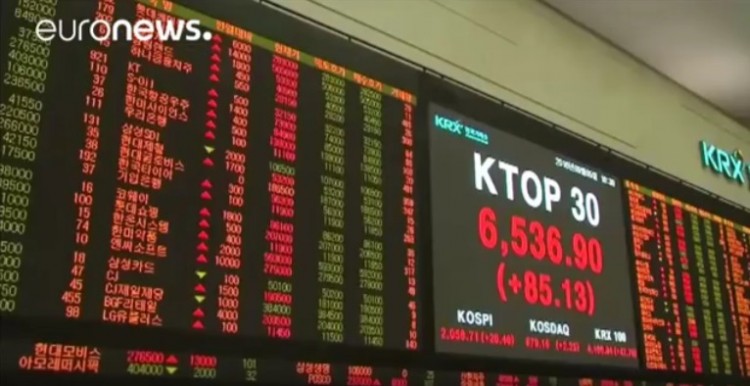 Samsung Electronics shares hit an all-time high, Monday, on the back of the firm's robust earnings estimation due to an unprecedented boom in the memory chip market. Stocks of the Seoul-based electronics titan reached 1.875 million won ($1,553) a share at one time on the Seoul bourse. The firm's previous record was 1.831 million won per share on Tuesday.
The bolstered stock value is attributable to the rosy outlook for the memory chip industry, with prices for DRAM and NAND flash chips on the rise amid growing demand for higher storage capacity in computers and mobile devices such as smartphones and tablets. In particular, the growth potential for NAND chips will remain solid for the time being, due to its widening usage with the rise of machine learning, which requires massive data storage, according to Euro News.
"We have revised up Samsung Electronics' target stock price to 2.5 million won from 2.3 million won over the firm's robust earnings outlook this year," said Eo Kyu-jin, an analyst at eBEST Investment & Securities. "Samsung is expected to post record-high earnings this year, backed by its technological edge in such areas as 3D NAND chips and flexible OLEDs.".
On Friday, the world's largest NAND chipmaker reported an estimated operating profit of 9.2 trillion won in the fourth quarter, up 49.84 percent from a year earlier. Analysts voiced their consensus that the firm's device solution (DS) division, which manufactures chips, succeeded in offsetting the weak performance of its handset unit which had to deal with the aftermath of the recent Galaxy Note 7 recall.
"The DS unit's operating profit is expected to reach some 25.1 trillion won this year, up 60 percent from last year, as the outlook for this year's chip market remains bright," the analyst said. Mirae Asset Securities analyst Doh Hyun-woo also increased the firm's target stock price to 2.35 million won from the previous 2.1 million won, citing the strong profit estimation last year.
"We expect a strong performance from the firm's chip business to have driven up its quarterly earnings," he said. "The DRAM chip price has steeply increased, as demand for personal computers is on track to a recovery. The demand for NAND chips is also growing, with machine learning getting more crystallized (among IT industry players.)"
Samsung Electronics closed at 1.861 million won on the Seoul bourse, Monday, up 2.82 percent or 51,000 won from a day earlier. Shares of SK Hynix, the chip-making affiliate of SK Group, also recorded this year's new high, closing at 49,550 won, up 3.23 percent or 1,550 won. Its stock reached 49,750 won per share at one time.
© 2020 Korea Portal, All rights reserved. Do not reproduce without permission.