Kim Soo Hyun Renews Contract With KeyEast, Update On Actor's Projects
by
regrec
/ Dec 19, 2016 08:59 PM EST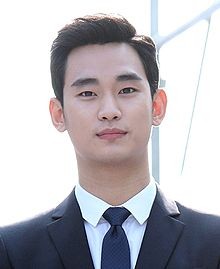 Kim Soo Hyun has reportedly renewed his contract with current agency KeyEast.
KeyEast is home to some of the great actors in South Korea like Park Seo Joon, Ju Ji Hoon, and Lee Hyun Woo among others. It is also the same agency that houses actresses Goo Hara, Park Soo Jin and Uhm Jung Hwa to mention some. Now, it seems that Kim Soo Hyun has decided to remain with his KeyEast family.
On Dec. 19, KeyEast revealed that the Hallyu actor has renewed his contract with the company. Having been a successful artist for the past seven years, KeyEast Entertainment CEO Yang Geun Hwan has delivered his statement of acknowledgment and support to the actor.
"Kim Soo Hyun grew as an actor for the past 7 years with KeyEast that is leading the new Hallyu and is loved by fans worldwide," CEO Yang Geun Hwan stated, as per AllKpop. "We will not only support his promotions and activities but also become partners who can influence each other's' lives in the best way for 10 or more years."
Kim Soo Hyun has indeed grown his acting career with KeyEast since his first leading role in 2011 with k-drama series "Dream High." The 28-year-old actor continued to make his way to stardom with his following hit dramas like "Moon That Embraces the Sun," "You Who Came From the Stars" and "Producer." Kim Soo Hyun also enjoyed big screen success with movies "The Thieves" and "Secretly, Greatly." For 2016, the Hallyu actor has wrapped up filming his next movie "Real" on June 30. For the promotions of his movie, along with other upcoming projects, the actor will continue to be working with KeyEast.
Kim Soo Hyun's upcoming movie "Real" is a South Korean action thriller film directed by Lee Sa Rang. Kim Soo Hyun will deliver the role of Jang Tae Young, a popular trouble shooter in the criminal world who aims to build a casino hotel one day. No exact premiere date has been announced yet but the movie is set for release on 2017.
Meanwhile, fans who miss Kim Soo Hyun are wishing for the actor to make a cameo in SBS' drama "Legend of the Blue Sea." The actor's former leading lady Jun Ji Hyun stars as a mermaid in the new series and as many actors related to the actress like Cha Tae Hyun and Jo Jung Suk have appeared for a brief cameo in the show, fans are anticipating Kim Soo Hyun to appear as well. The actor has yet to make a comment on this.
© 2023 Korea Portal, All rights reserved. Do not reproduce without permission.