Goblin's Gong Yoo Embarrasses Himself at a Movie Screening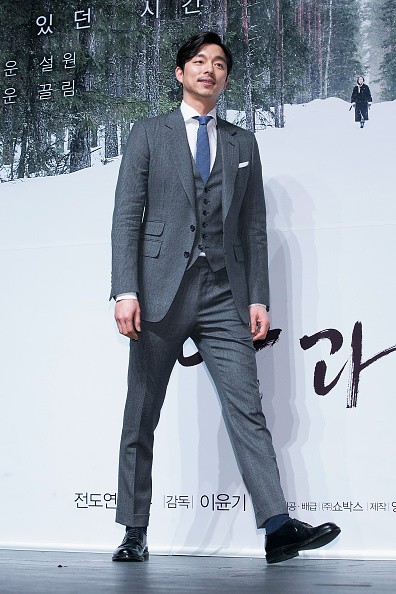 He may be one of the hottest stars right now but Gong Yoo looked embarrassed after getting caught winking at a fan who was filming him.
This happened during a special screening of his latest film "The Age of Shadows" on September 15 in Cheongdam-dong. It may have taken place some time ago but Gong Yoo's continued success in his current drama series "Goblin" ensured his rising popularity for the second time around, thanks to the massive popularity of his zombie film "Train to Busan." This means his fans have taken considerable interest in this unexpected fan service that has recently gone viral.
According to Koreaboo, Gong Yoo noticed a fan who was filming only him during the event and winked at this fan. To the actor's surprise, the rest of the fans as well as his cast members started winking back at him so he blushed and appeared embarrassed.
The 37-year-old actor also reportedly initiated a back hug scene with a fan during the movie's red carpet event.
In a press conference for tvN's "Goblin," which aired December 2 and already broke records with 8.3 percent audience rating for the two episodes, the actor revealed that he declined drama roles including the hit drama "Descendants of the Sun."
Scriptwriter Kim Eun Sook cast Gong Yoo as her first choice for the lead role played by actorJong Soong-ki, who's now enjoying massive popularity as a result.
"Writer Kim has been really kind, offering me roles over and over again. The reason I rejected previous offers was not because I feel like I was special, but because I was afraid of shooting a drama," explained the actor, as reported by Yahoo.
He added, "Unless it is a pre-made drama, the physical conditions are quite different. I am not putting the blame on the environment, but as an actor, I want to show my performance when I am in my best condition."
© 2019 Korea Portal, All rights reserved. Do not reproduce without permission.