WATCH: 'The Legend of the Blue Sea' New Behind the Scene Video Released; Jun Ji Hyun Working Hard For Her Role
by
Allan
/ Nov 21, 2016 06:27 AM EST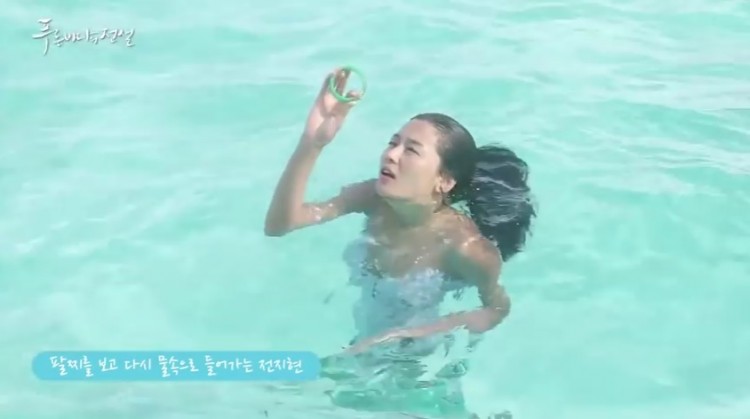 A new behind the scenes video of "The Legend of the Blue Sea" has just been released and it shows just how Jun Ji Hyun works hard for her role and how beautiful is the location of the set. The uploaded video is 1 minute and 25 seconds long where it showcases the beauty of the sea and Jun Ji Hyun effortlessly swimming like a real mermaid.
The behind the scene video just how Jun Ji Hyun worked hard to perfect her role as a mermaid. She is seen wearing a mermaid's tail and swimming through the ocean just like a real mermaid for a number of times. Despite how hard each take is, Jun Ji Hyun quickly embodies her role and completes every request with a smile. At one point, she is seen watching a video from a phone, presumably of herself doing one of the shots for "The Legend of the Blue Sea", and she seemed very happy with the way things have worked out.
The video also shows how the underwater scene with the other mermaids were shot and it was not easy. All the mermaids had to submerge underwater and interact to each other while keeping their balance. The best part of the video is when Jun Ji Hyun found the sunglasses embedded with shells and wearing it while under water. Jun Ji Hyun didn't show any sign of being tired or discomfort as she complies with every instruction that the "The Legend of the Blue Sea" director gives.
"The Legend of the Blue Sea" just started airing this month but it has captured the hearts of many viewers. According to reports, its rating has already beaten "Descendants of the Sun" and continues to increase on every episode. The next episode will air on November 23, 2016, on KST. Fans outside Korea can watch stream every episode on iFlix and Viki as stated on reports.
© 2018 Korea Portal, All rights reserved. Do not reproduce without permission.