Yoshikimono Debut Collection Appears At Tokyo Fashion Week; X Japan Member Yoshiki Reveals Twist!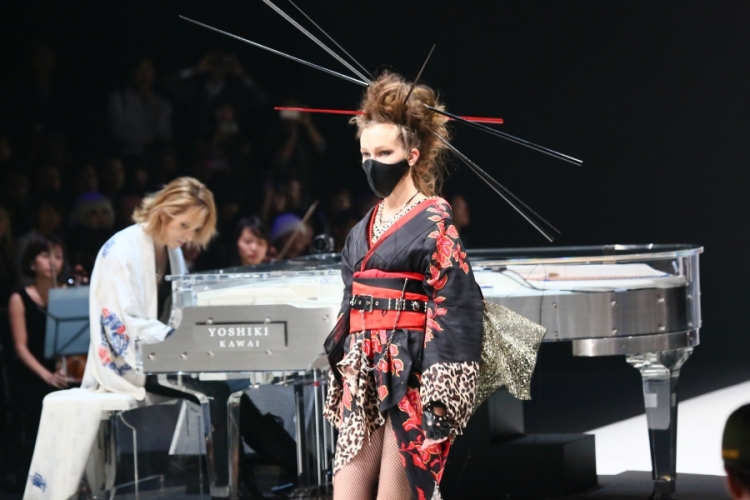 Japanese musician and heavy metal rock star Yoshiki finally unveiled the Yoshikimono debut collection on Saturday, Oct. 17 at the Tokyo Fashion Week finale in Japan. His own brand of kimono unveils a sexy twist on the traditional Japanese clothing with designs collaborated with top designer Jotaro Saito, Channel News Asia reports.
The all-new Yoshikimono collection features lighter, modern fabrics such as jersey, wool and even denim in high contrast to the typically heavy silk used in making kimonos. Saito stated that kimono is a fashion statement and it shouldn't be presented as "old-fashioned," so as to encourage young women to bring back kimonos in the fashion market.
Meanwhile, pianist and X Japan leader Yoshiki comes from a family who runs a kimono store, and he grew up surrounded with beautiful kimonos at home in his childhood. His own mother wore them on a daily basis and she often dresses him in kimono as well. His family background, along with his musical work with X Japan and his own solo classical work, inspired him to get involved in creating his own Yoshiki collection, according to Japanese Perspective.
The decline of kimonos goes back to late 1800's, when Japan's rulers opened up the Land of the Rising Sun to modern influences after centuries of self-imposed seclusion. Also, kimonos are considered very expensive that today's Japanese women would prefer on renting kimonos for weddings than buying brand new ones.
Currently, major urban centers in Japan still show some women in kimono, though the garment is now typically reserved to be worn for special occasions instead of as normal, everyday clothing.
During the debut show at Tokyo Fashion Week, models of Yoshikimono collection graced the runway wearing the lovely kimonos, with some slashed to mini-skirt length - partnered with stilettos, leather collars and even fishnet stockings.
Yoshiki later commented that he wanted to see women wearing his kimonos to concerts, whether it's rock or classical.
© 2019 Korea Portal, All rights reserved. Do not reproduce without permission.