Kang Dong Won Talked About a Bloody Incident on the Set of his New Movie 'Master'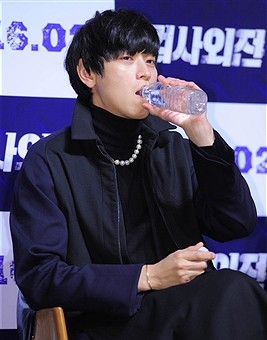 In a recent interview, Kang Dong Won talked about a bloody incident on the set of his new movie "Master." According to the actor, he met a terrifying accident while filming his new movie. The actor revealed that he got hurt while doing a car chase scene.
"While filming the car chase scene, there was an accident, so I was pierced in the neck by glass. Fragments of glass flew everywhere, so my whole face was hurt and I bled a lot," the actor revealed.
"The director had on a thunderstruck face, but the costume team was worried blood would get on the clothes and said, 'Please take off your clothes," Kang Don Won continued as he talked more about that bloody incident, trying to inject humor in that terrifying event.
Everybody on the set was shocked but fortunately, the actor didn't have any serious injury.
Director Lee Byung Hun also shared how terrified he was because of the said incident. Although Kang Dong Won talked about that bloody incident like it wasn't serious, the director knows how dangerous it really was. He was just thankful that Kang Don Won was safe.
"Kang Dong Won says it [lightly] but it was an extremely dangerous incident. A long piece of glass was stuck in his neck. I knew he was a manly man, but he told me he personally pulled out that glass," the director said in an interview.
"Master" is a thriller film about a criminal investigation team that hunts down the con artist and brains behind a major fraud case. It is set to hit the big screen in December 2016.
© 2018 Korea Portal, All rights reserved. Do not reproduce without permission.