Lee Kwang Soo Meets Cartoonist Jo Seok in Upcoming Web Drama 'The Sound of Your Heart'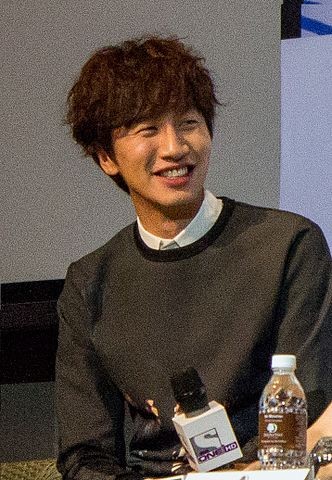 A new web drama is in the works following the recent success of the adaptation of webtoon "W - Two Worlds." On November 3, the production team of upcoming web drama "The Sound of Your Heart," based on a webtoon on Naver with the same title, held a press conference confirming the adaptation.
With a set of interesting cast, starring Lee Kwang Soo as the main character Jo Seok, and Jung So Min as Jo Seok's girlfriend turned wife Lee Ae Bong, everyone is ecstatic about the new web drama. Along Kwang Soo and So Min are veteran actors Kim Mi Kyung, Kim Dae Myung, and Kim Byung Ok. The drama will be under the direction of director Ha Byung Hoon.
The web drama is based on popular webtoon "The Sound of Your Heart" created by cartoonist Jo Seok. It's also been revealed that Jo Seok will be part of the production team as the writer for the adaptation. Coincidentally, prior to "The Sound of Your Heart" set, Jo Seok has previously worked with Lee Kwang Soo in variety show "Running Man." Jo Seok was invited twice to the popular SBS entertainment program "Running Man." Interestingly, all his visits led him to an interaction and competition against Lee Kwang Soo.
In episode 257, Jo Seok competed in a drawing challenge against Kwang Soo and former professional StarCraft player Hong Jin-ho. During his next visit on episode 295, Jo Seok had the chance to play the iconic name tag ripping game with some of the "Running Man" members including Kwang Soo. Unfortunately, Kwang Soo defeated him, which made Jo Seok want to go home. On the brighter side, he was able to defeat Ji Suk Jin which totally appeased him. Now it seems that Jo Seok will have more chance to be invited in "Running Man" again and meet the members, what with his new connection to Kwang Soo.
Meanwhile, Lee Kwang Soo is excited to work as the lead role for the web drama. In fact, he's ready to show some skin as producing director Ha Byung Hoon told him that there would be some nudity in the drama. Kwang Soo proved his dedication for the drama by accepting the project despite Byung Hoon PD warning him that the nudity involves his lower body.
"The Sound of Your Heart" would begin to air every Monday on Naver TV Cast starting on Nov. 7. By December, it would reportedly air on KBS channel.
© 2023 Korea Portal, All rights reserved. Do not reproduce without permission.