EXO Members Gifs Playing With Mysterious Item On Stage Trends Worldwide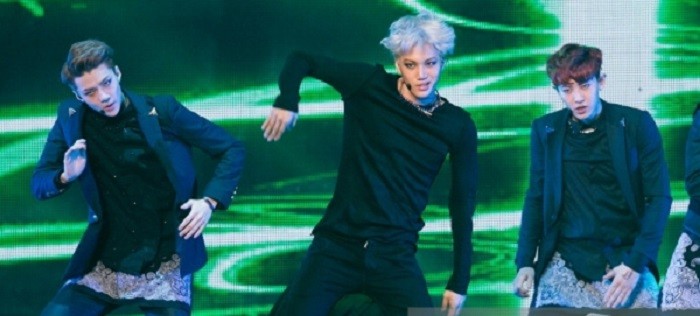 EXO Members Gifs playing a mysterious yellow object on stage trends worldwide.
Recently, during one of the EXO's concerts, fans are curious about the yellow object that the EXO members are playing on stage. The object is movable, stretchable, and bouncy which attracts the attention of the fans and makes them wonder about it.
EXO is a Korean pop group formed by SM Entertainment in 2011. The group originally consists of twelve members but three of its Chinese member left the group due to their personal reasons. The group's first album was entitled "XOXO" which garnered success around the world.
The Korean boy group EXO previously announced their third solo concert entitled "EXO PLANET #3 - The EXO'rDIUM." The concert title was derived from the Latin word "exordium" which means "beginning." The new EXO theme suggests a mature and unique side of EXO.
EXO member, Baekhyun started playing happily as he twirled the object around and applied force to it. He seemed to release his karate skills while playing the stretchy object. Fortunately, no one nearby him was get hit by the object. It turned out that the object was super elastic.
Meanwhile, EXO members D.O. and Chanyeol joined the fun as they played with the yellow object. D.O. with a blanked expression on his face held the item as Chanyeol played the item like a jump rope. Unfortunately, D.O. released the item hitting Chanyeol, who collapsed onto his knees with laughter. D.O did all these things while singing.
Furthermore, D.O. seemed to like the yellow object a lot as he refused to share it with other EXO members. He was rapidly walking away while shaking it and ignored Chanyeol who was beside him and trying to get the object from D.O.
The more interesting part is how the yellow object survived from the rough and extreme playing of EXO members in it.
Recently, EXO had their concert at Impact Arena, Muang Thong Thani in Thailand on September 11. EXO has an upcoming concert schedule in Japan from September 13- December 11 with various dates.
Click here to view EXO Members Gifs Playing With Mysterious Item
© 2023 Korea Portal, All rights reserved. Do not reproduce without permission.