Ham Seo Hee Is Opening Doors As The First South Korean Woman To Compete In The UFC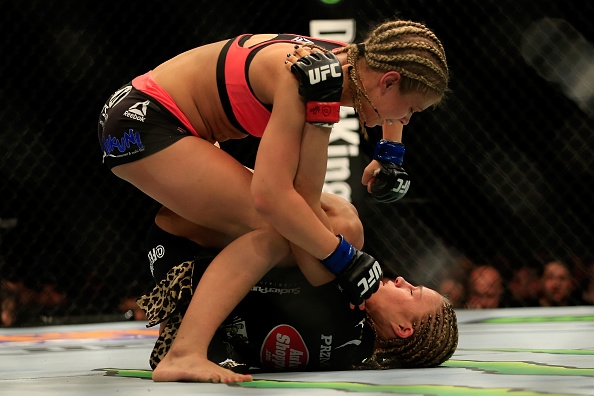 Ham Seo Hee experience her first loss since 2011 last December after her fight with Joanne Calderwood at The Ultimate Fighter 20 Finale, according to the website MMA Fighting.
Ham, who is the first woman from South Korea to compete in the UFC, will be returning to the ring after pulling out of a fight in May due to injury, according to the website UFC.com.
Ham will reportedly be competing against Courtney Casey on November 28 at the Olympic Gymnastics Arena in Seoul, South Korea. 28-year-old Ham has reportedly won six of her last seven fights, so there are high expectations that she'll continue on with her success.
Despite being the first South Korean woman to compete in the UFC, merely a year ago, Ham didn't think that she would be fighting with other champions in such a competitive arena.
"Right now I have no idea," stated Ham during an interview in 2014 when asked if she would be competing in the UFC in the next couple years.
"I think I'm weak now. I think I have to get stronger. Fighting in Asia is okay, but in Europe and the US, people are much stronger. I want to continue training for now."
Ham's bout against Casey will be a competitive one, as Casey has won three fights on the regional circuit before making her UFC debut back in July.
RT " #MMA Seo Hee Ham meets Cortney Casey at UFC South Korea… http://t.co/YElbx1sSdh " #SportsRoadhouse pic.twitter.com/DoryQ0TTmb

— Sports Roadhouse® (@SportsRoadhouse) October 6, 2015
By continuing her career, Ham has made competing in the UFC an admirable sport for women in South Korea. Although there aren't a lot of female South Korean competitors, Ham has officially opened the door for them.
"First of all, I'm very happy that there are a lot of female competitors worldwide," explained Ham, when asked how she feels about women's MMA.
"If you grow more women fighters, then I will have more matches. The more matches we make, more promotions for women, this will make more opportunities for women in the sport. It's a very good thing."
When Ham began MMA fighting 10 years ago, there were only two women competing, and they eventually quit due to the lack of opportunities in the sport.
"Compared to what it was like in the past, things have really improved," stated Ham.
© 2023 Korea Portal, All rights reserved. Do not reproduce without permission.