'Korea Now' Exhibit At The Decorative Arts Museum In Paris Features A Wide Range Of Korean Art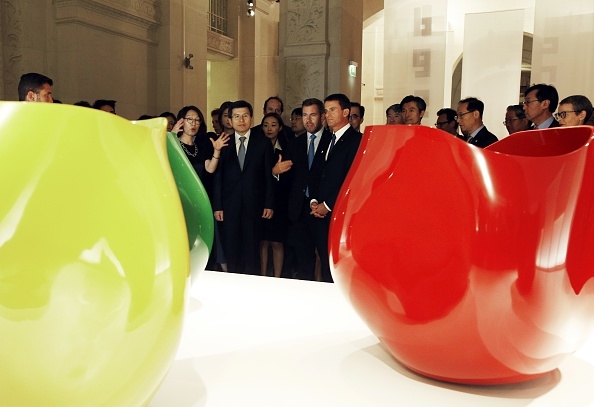 The Decorative Arts Museum In Paris Showcased The "Korea Now" exhibit on Friday until Jan. 3, 2016, which features a wide range of Korean art, including the traditional costume hanbok.
The exhibit is considered the biggest display of Korean art ever showed overseas, which features over 1,500 pieces of arts, crafts and designs, and was launched timely as Korea and France celebrate their 130th anniversary of diplomatic ties, reported Korea Herald on Monday.
"Korea Now" is also the second-largest event of the Korea-France Year festivities following the performance of Jongmyo Jeryeak, a royal musical performance ritual of Korea, on Friday as the opening for the year-long celebration in Paris.
The exhibit is composed of three sections. The craft section includes 890 artisan craftworks and was directed by Im Mi Seon, former director of the Clayarch Gimhae Museum. The collection features the beauty of Korean crafts that boast of various shapes and patterns, such as those found in mother-of-pearl furnitures and porcelains.
Another is the fashion section, which is directed by stylist Seo Young Hee. The collection includes 270 creations of the top fashion designers in Korea based on the Korean traditional costume's five major colors: black, white, yellow, red and blue.
Yonhap News Agency noted on Thursday that two of President Park Guen Hye's traditional Korean dresses hanbok were on display at the "Korea Now" exhibit's fashion section.
One of her hanboks that are on display was worn during her inauguration on Feb. 25, 2013, while the other was worn on November of the same year as she visited the United Kingdom.
"Park is raising the world's awareness of hanbok as Korea's first female president," noted Seo. "We included the presidential hanbok in this exhibition out of thought that they best show the dignity of hanbok."

The third, which is the graphic design section, showcases the geometrical feature of hanbok in Hangeul Korean alphabet, with books and posters put on display showing the symmetrical and geometrical features of Hangeul.
A "Constancy and Change" Korean craft exhibit is also set to be displayed in the London Design Festival on Sept. 24 featuring 192 masterpieces by Korean artisans, which will continue until Sep.t 27 at Tent London.
© 2023 Korea Portal, All rights reserved. Do not reproduce without permission.