U.S. President Barack Obama's Final State Of The Union Address Scores High Reviews From American Viewers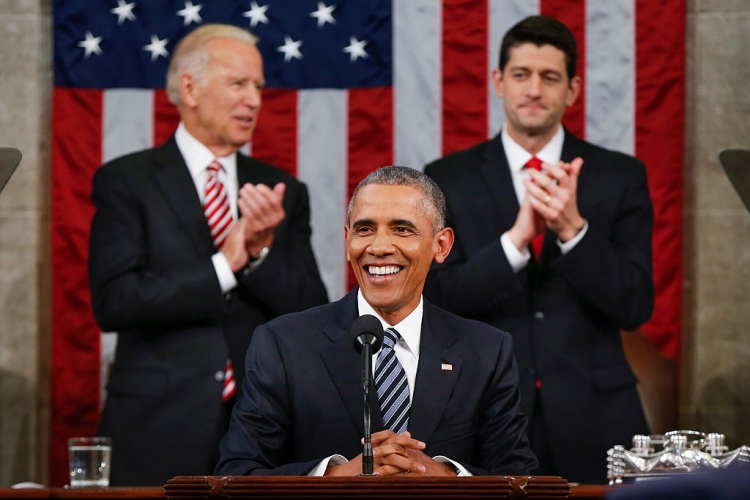 An instant poll conducted on President Barack Obama's final State of the Union address by CNC/ORC indicated that Obama's speech was met with deeply positive reviews. 53 percent of the interviewed people expressed a "very positive" reaction towards the president's speech. The other 20 percent have a somewhat positive reaction whereas the remaining 25 percent showed a negative disposition.
The poll was conducted by telephone on Jan. 12 with 386 adult Americans who watched the presidential speech. 42 percent of viewers declared themselves to be Democrats while 24 percent were Republicans. The interview reflected the viewers' opinions on Obama's policies fpr several key issues such as the state's economy, climate change, gun policy, terrorism, health care policy as well as immigration, WISN asserted.
Reports show that 73 percent of the respondents said that the policy on climate change would move the nation in the right direction, while 67 percent of them said the same about Obama's economic policies. 66 percent expressed positivity on his gun policy, 64 percent on terrorism, 63 percent on his health care policy and 57 percent on immigration policies.
Telemundo reported that 68 percent of the viewers found that Obama's proposed policies would greatly benefit the United States and move the nation forward. On the other hand, 29 percent of Americans felt that his policies would lead the country to the wrong path.
According to CNN, the reviews matched the best ratings for any of his previous State of the Union addresses.
Compared to the 72 percent who thought that the 2015 proposed policies would move the state to the right direction, this year's polls were not far off the mark. CNN/ORC alleged that most Americans said that his presidency has fallen short of their expectations.
The results reportedly have a margin sampling error of plus or minus five percentage points. The first interview, which was a part of a random national sample, was conducted between Jan 5. and Jan.11.
© 2023 Korea Portal, All rights reserved. Do not reproduce without permission.