New Jersey Governor And Republican Presidential Candidate Chris Christie Says Pope Francis Was Wrong To Promote U.S.-Cuba Reconciliation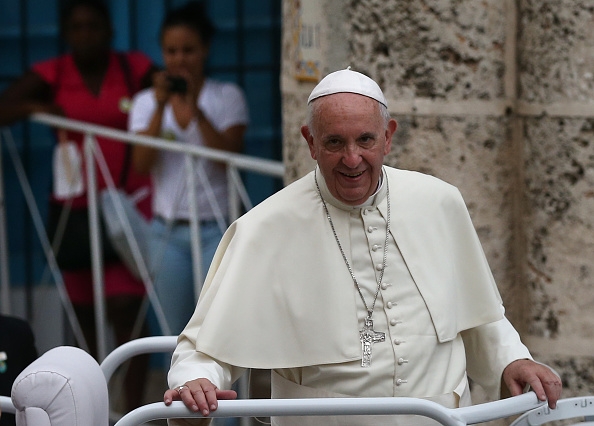 New Jersey governor and Republican presidential candidate Chris Christie says that he "happens to disagree" with Pope Francis' call to promote reconciliation between the United States and Cuba.
"I just think the pope is wrong," says Christie, during an interview with CNN's Jake Tapper on Sunday. "The fact is that his infallibility is on religious matters, not on political ones. I just happen to disagree with the pope on this one."
He goes on, "The fact is that, for me, I just believe that, when you have a government that is harboring fugitives, murdering fugitives, like Joanne Chesimard, who murdered a state policeman in New Jersey in cold blood, was broken out of prison, and has been harbored for the last 40-plus years by a Cuban government that has paid her and held up her as a hero, that this president could extend diplomatic relations with that country without getting her returned so she can serve the prison sentence that she was sentenced to by a jury of her peers in New Jersey is outrageous."
On Saturday, Pope Francis arrived in Havana to start his 10-day Apostolic journey to Cuba and US. Upon his arrival in Cuba, the Latin American pope calls on the US and Cuban president Raúl Castro to persist the reconciliation between the two countries.
"We have witnessed an event which filled us with hope: the process of normalizing relations between two peoples following years of estrangement," says Pope Francis, as reported by The Wall Street Journal on the same day.
Thousands of people gathered in Havana's Revolution Square to celebrate Mass Sunday with Pope Francis. On the same day, the pope had an "intimate and familial" meeting with former Cuban president Fidel Castro, as reported by The Guardian on the same day.
Meanwhile, Pope Francis will start his historic visit in the US on Tuesday wherein hundreds and thousands of people are expected to welcome the pope. US President Barrack Obama will greet the pope on his arrival at Joint Base Andrews.
© 2023 Korea Portal, All rights reserved. Do not reproduce without permission.