U.S. President Barrack Obama Reportedly Criticizes Some Republicans Opposing To Some Government Projects Which He Said Should Be Bipartisan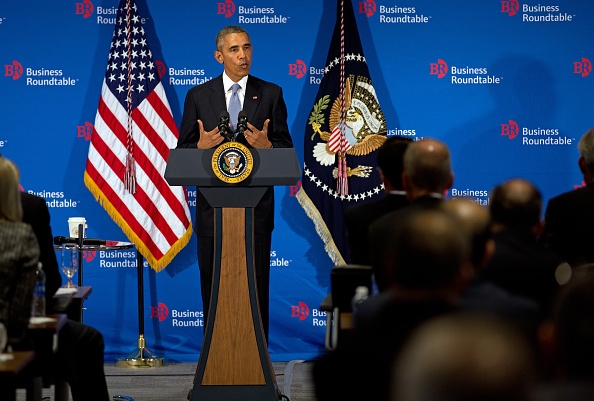 US President Barrack Obama speaks to the members of the Business Roundtable on Wednesday wherein he mentioned the current American economy problems.
"There's not a country out there, including China, that wouldn't look at us with envy right now," Obama started his speech. "Our problem is not that China will out negotiate us or [Russian President Vladimir] Putin will out-strategize us. Anybody take a look at the Russian economy lately? That's not our problem. Our problem is us, typically."
He went on with explaining other matters using "we" and "us."
"We engage in - I'm being generous when I say we - we engage in self-inflicted wounds like this government shutdown."
Obama also disapproves some Republicans who are "opposing the extension of the Export-Import Bank, infrastructure projects and other initiatives he said should be bipartisan," The Blaze reported on the same day.
"The notion that we are not doing them right now is primarily because a faction within one of our parties has gone off the rails and sees a conspiracy around everything, or simply is opposed to everything I've proposed even if they used to propose it, that's a problem."
He added, "I think it's important for you to step back and take a look at because you still have influence on at least some of those folks."
Aside from that, Obama describes the reported plan of the Republicans to shut down the government because of Planned Parenthood as "not good business."
"Democrats are willing to work with Republicans right now as we speak, but it should be over legitimate questions of spending and revenue not on unrelated ideological issues," he said.
"You'll recall two years ago, Republicans shut down the government because they didn't like Obamacare. Today, some are suggesting the government should be shut down because they don't like Planned Parenthood. That's not good sense. That's not good business."
Meanwhile, the Planned Parenthood "de-fund" bill passed on Friday as the House Republicans voted to stop the federal funding to the non-profit organization for a year.
Moreover, Obama also stated on Wednesday that "America is great right now," which reportedly was an indirect counter to Donald Trump's campaign slogan, "Make America Great Again," as reported by NPR on the same day.
Obama said, "You've got two leading candidates on the Republican side who said we should eliminate the carried interest loophole. Now, there is disagreement in this room about that, but I will tell you that keeping this tax loophole, which leads to folks who are doing very well paying lower rates than their secretaries, is not in any demonstrable way improving our economy."
"On the other hand, if we close the tax loopholes, we could double the number of workers in America's job training programs, we could help another 4 million students afford college. These are sensible choices if you were running your business and took a look at it, you'd make that decision."
© 2023 Korea Portal, All rights reserved. Do not reproduce without permission.