North Korea Sets Up Broadcasts To Counter South's Anti-Pyongyang Campaign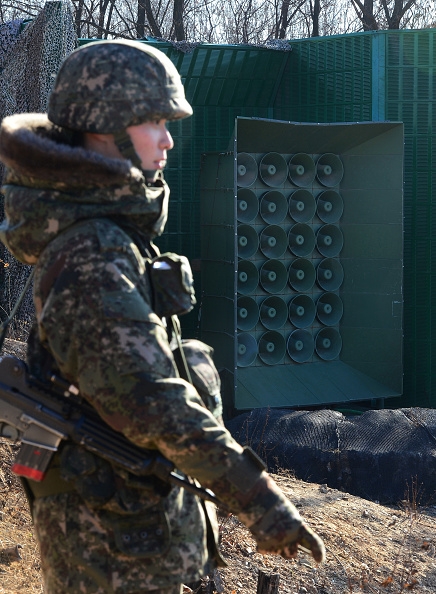 Following North Korea's fourth nuclear test last Wednesday, South Korea set up loudspeakers blaring criticism of Pyongyang's regime and Korean pop music, according to Reuters.
The North is now following suit by setting up its own loudspeakers along the inter-Korean border, blasting propaganda messages and music promoting North Korean leader Kim Jong-un, according to The Korea Times.
Criticism of South Korean president Park Geun-hye can also be heard among the messages, according to sources for the Korean news outlet.
"The North initially operated its own loudspeakers at two locations and has now expanded to several locations," a government source stated.
"In fact, the anti-South loudspeaker broadcasts appear to be coming from every location where we are broadcasting."
The North Korean broadcasts are reportedly not very audible from the South Korean side of the border.
"We are not sure if it's an issue of electric power or the performance of the loudspeakers, but the sound is very weak," another government source said.
North Korea's recent nuclear test brought on disapproval from the United States as well as China. After the nuclear test, Seoul and Washington reportedly discussed the deployment of U.S. weapons on the Korean peninsula, according to a South Korean military official.
"Jealous of the successful test of our first H-bomb, the U.S. and its followers are driving the situation to the brink of war, by saying they have resumed psychological broadcasts and brought in strategic bombers," Kim Ki Nam, head of the ruling Workers' Party propaganda department, said.
North Korea has reportedly shown no signs of military action over South Korea's broadcasts. Today marks the fourth day of the South's loudspeaker campaign.
© 2023 Korea Portal, All rights reserved. Do not reproduce without permission.